D-backs still happy to have Hill two years later
D-backs still happy to have Hill two years later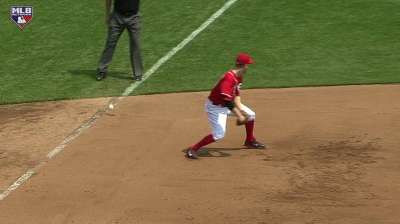 PHILADELPHIA -- Friday marked the two-year anniversary of the trade that brought Aaron Hill and John McDonald to the D-backs from the Blue Jays for Kelly Johnson, and by all accounts, the move has been more than Arizona could have asked for.
Granted, McDonald is now with the Phillies -- the D-backs' opponent on Friday -- but the key to the story is Hill. When the trade happened, Hill came over hitting just .225 in 104 games with six home runs. Almost immediately, the change in scenery benefited the second baseman, who hit .315 in 33 games with Arizona that season.
"I told him to come over and have fun," D-backs manager Kirk Gibson said on Friday. "We believe in you, that's why we got you guys."
In the 247 games Hill has played since the trade, he has hit .306 with 37 home runs and 135 RBIs. It's easy to see that this was one of those trades that came at the perfect time for the right person.
"Things can go stale, and then you go somewhere and all of a sudden you are in a race," Gibson said. "You're with a new team and you're a good fit. He came over with Johnny Mac, who's basically his big brother or his dad or his grandfather, whatever. I knew Johnny Mac from Detroit. It was a good situation and he obviously got comfortable."
Hill entered the game having hit safely in 14 of 15 games, in which he had a .397 average (25-for-63) with five doubles, four home runs and 14 RBIs.
Michael Radano is a contributor to MLB.com. This story was not subject to the approval of Major League Baseball or its clubs.