Smith returns to A's lineup after lasik surgery
Smith returns to A's lineup after lasik surgery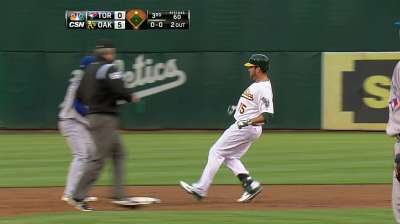 BALTIMORE -- Seth Smith was back in the lineup Friday against the Orioles after missing almost a week because of an eye astigmatism.
Smith's presence was especially important for the series opener in Baltimore against Bud Norris because manager Bob Melvin likes to use the outfielder exclusively against right-handed pitchers.
Smith is batting .241 with six home runs and 33 RBIs in 95 games this season.
"He's 20-20," Melvin said about Smith's vision. "He had an issue and then had to have the lasik [surgery]. I'm glad that's a quick process. A couple of days and he's seeing better than he was before. That's a good thing."
Todd Karpovich is a contributor to MLB.com. This story was not subject to the approval of Major League Baseball or its clubs.