Seven-run fourth powers Nats out of early 6-0 hole
Seven-run fourth powers Nats out of early 6-0 hole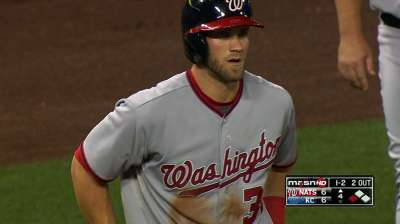 KANSAS CITY -- The Nationals and Royals found themselves in a slugfest Friday night at Kauffman Stadium. When it was over, it was the Nationals who edged the Royals, 11-10.
The Nationals are on a four-game winning streak and find themselves 8 1/2 games behind the Reds for the second and final spot in the National League Wild Card race.
Asked if the team was feeling good about itself, Nationals outfielder Jayson Werth said: "We have no other way to feel. We have nothing left. This is it. These are all must-win games. We can lose a game here and there, but, I mean, we have to have the mindset every night that this is a must-win game. We can control what we can control and that's ourselves. Another team slides, that's going to help. Essentially, we are in a must-win situation every night."
Left-hander Gio Gonzalez started for Washington and had nothing in the tank, allowing seven runs (six earned) in 3 1/3 innings. By the second inning, Gonzalez was behind, 6-0. Eric Hosmer and Justin Maxwell highlighted the scoring with home runs in the first inning.
"You are going to have games where you are going to be iffy," Gonzalez said. "You are going to be all over the place. Today was a perfect example. Fastball was flat and I couldn't find the strike zone. When you fall behind on a good hitting team, they are going to do some damage."
But Royals left-hander Bruce Chen wasn't any better. After allowing a run in the third inning, Chen allowed six of the seven runs in the following inning. Bryce Harper hit a bases-clearing double to tie the game, while Werth gave them an 8-6 lead with a two-run homer off right-hander Louis Coleman.
"I left a curveball up and he kept fouling, fouling and finally got something he really wanted to drive. I didn't make good pitches tonight," Chen said about Harper's double.
After Gonzalez left the game in the fourth inning, right-hander Tanner Roark pitched 4 2/3 scoreless innings, winning his fourth game of the season. Manager Davey Johnson needed Roark to go long, because he didn't have much of a bullpen. Tyler Clippard and Craig Stammen had the day off due to high workloads and Rafael Soriano was scheduled to have the day off, as well.
"How about Roark? Unbelievable job. He really hit his spots, made great pitches. I can't say enough about him," Johnson said. "He threw 37 pitches [on Wednesday against the Cubs] and came back and threw [58]."
Roark was humble when talking about his outing.
"I was really trying to pound the zone, go at guys and force them to swing at my pitches," Roark said. "The slider was really working tonight, keeping my fastball down and have them swing at pitches they don't like to swing [at], but they have to because it's close."
The Nationals added to their lead in the in the seventh inning by scoring three runs off left-hander Tim Collins. Tyler Moore hit an RBI single. A few minutes later, the bases were loaded when Anthony Rendon came to the plate and hit a ground ball to second baseman Chris Getz, who made a throwing error past catcher Salvador Perez, allowing Wilson Ramos and Adam LaRoche to score.
Despite a scheduled off-day, Soriano was pressed into action in the ninth after Drew Storen allowed a walk and double to start the ninth, which didn't sit well with Johnson.
"I wanted to go to Storen with a four-run lead," Johnson said. "I want him to go right after them like he has been [doing], but he went out there and walked the first guy. ... He should have let him hit it.
"I would have left him out there if he had made him hit it. He got behind the next guy, 3-0, got back and threw a bunch of strikes. Sori then told my pitching coach [Steve McCatty] that he was OK, so I went to Sori. I didn't want to. I wanted to stay off him. Storen can be mad at me, but he should be mad at himself, because with a four-run lead, make him hit it, go right after him."
Storen wasn't available for comment.
Soriano continued to struggle, allowing both inherited runners to score, as well as one of his own, but a diving catch by Harper off the bat of Emilio Bonifacio helped Soriano earn his 33rd save. Harper was shaken up on the play, hurting his knee and hip.
"You have to catch that ball in that situation, no matter what," Harper said. "If I drop that ball, he is probably on third base and he would probably score. It was a huge play. I'm excited we got the 'W.'"
Werth, who was the designated hitter, was impressed with Harper's catch. Werth indicated that it was a tough catch because Harper was playing deep in a no-doubles defense.
"I knew when the ball was hit, it would be a tough play, because we are playing no doubles. That was the difference in the game," Werth said.
The Nationals reached the .500 mark at 64-64.
Bill Ladson is a reporter for MLB.com and writes an MLBlog, All Nats All the time. He also can be found on Twitter @WashinNats. This story was not subject to the approval of Major League Baseball or its clubs.