A's begin two-week stretch vs. contenders
A's begin two-week stretch vs. contenders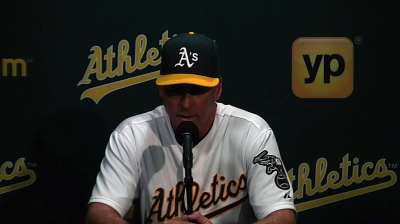 BALTIMORE -- The A's embarked on a crucial 13-game stretch against contenders beginning Friday in Baltimore, and manager Bob Melvin said the focus is still on winning the division.
Oakland trailed the Rangers by 2 1/2 games in the American League West entering Friday. However, the A's hold the second AL Wild Card spot, 2 1/2 games ahead of Cleveland and three games ahead of the Orioles. Melvin said the key is to win the division to avoid the AL Wild Card Game.
"You'd like to win the division first ," Melvin said. "If you don't, then you want to be in that game. Any time you get in the postseason, that's terrific. Our sights, for us right now, are still on the division."
Over the next three weeks, the A's will also play the Tigers and Rays, each of whom are in the playoff hunt. Oakland will then play another huge three-game series at home against Texas that could help decide the division.
"It's a little bit of an easier road when you win the division, rather than have to play a one-game playoff to get into a longer series," Melvin said. "It certainly makes for some drama for the fans, that winner-take-all game."
Todd Karpovich is a contributor to MLB.com. This story was not subject to the approval of Major League Baseball or its clubs.