Royals fizzle after fast start, drop sixth straight
Royals fizzle after fast start, drop sixth straight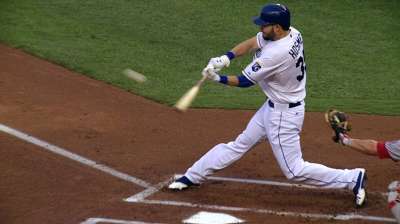 KANSAS CITY -- This Royals defeat was a real crusher. How could it not be?
Kansas City jumped out to a six-run lead through two innings, but let it slip away and took an 11-10 loss to the Nationals as 28,733 fans flocked to the Interleague match at Kauffman Stadium on a gorgeous Friday night. It was the biggest blown lead this season for the Royals.
Still, an invigorated attack gave the Royals something positive to take away from the evening. Their fiesty three-run rally in the ninth inning fell just short.
"I was really proud of the offense the way that they came out," Royals manager Ned Yost said. "Put runs on the board early. Battled to the last pitch. It's kind of a tough go, though, when you score 10 and lose."
The dreary count mounts for the K.C. club -- six straight losses and nine in its last 11. The Royals are now just one game over .500 and are 10 1/2 games behind first-place Detroit in the American League Central. They remained seven games back in the Wild Card race, but there are six teams ahead of them.
"It's good to see the bats come out, it's good to swing, but it's the way things are going right now," Billy Butler said. "We can't catch a break."
At first, the 88-degree evening seemed so perfect. Yost held a pregame tete-a-tete with his Royals and out they came with a vengeance. Not hitting with runners in scoring position? No problem.
Boom-a-de-boom. Alex Gordon started things off with a double and Eric Hosmer lined a home run to left field. Justin Maxwell also banged one out and it was 3-0 against tough left-hander Gio Gonzalez.
Second inning: Four hits, including back-to-back doubles by Jamey Carroll (breaking his 0-for-16 start with the Royals) and Gordon, plus RBI singles by Hosmer and Butler around an error. The Royals were in control, 6-0.
Now the Royals fans could settle back and enjoy that good pitching that Yost was so happy about. Left-hander Bruce Chen let in one run in the third inning. Not so bad.
Then, oh my. The Royals' lead vanished in the red-eyed blink of a seven-run fourth inning. Hits were flying, walks doled out. After walking in the third run with two outs, Chen stayed in to pitch to left-handed-hitting Bryce Harper.
Did Yost stay with Chen too long?
"No. We had extra innings yesterday. If I look back, I'm not doing anything different," Yost said.
Harper promptly hammered a three-run double into right-center and it was 6-6.
"I left a curveball up and he kept fouling, fouling and finally got something he really wanted to drive," Chen said. "I didn't make good pitches tonight."
Chen was relieved by right-hander Louis Coleman and Jayson Werth belted a two-run homer to left-center. That ended Coleman's 21-innings scoreless streak this year and put the Nationals ahead, 8-6.
Now the Royals were in a familiar situation -- the need to overcome a deficit. They'd been pretty good at it -- 36 of their 64 victories were comeback wins.
They picked up a run in the fourth on Gordon's third hit and Salvador Perez's RBI single as Gonzalez's outing came to a close.
However, the Nationals kept coming. They loaded the bases against lefty reliever Tim Collins in the seventh on two hits and a walk. Kelvin Herrera inherited the no-out jam and Tyler Moore bounced a one-run single to left. Second baseman Chris Getz fielded Anthony Rendon's grounder, but his throw home skipped past Perez for an error and two more runs scored.
"We brought the infield halfway to kind of increase our range a little bit," Yost said. "We were going to try to get the out at the plate and then back up and try to get two with the power pitcher on the mound, but Getzy just couldn't quite get it there."
"It was kind of an unorthodox play to my left," Getz said. "We were ready to make a play at the plate and then my arm angle wasn't set up properly and it was kind of an errant throw."
Herrera, using a completed forceout at the plate by Getz and two strikeouts, avoided further damage, but the Nationals held an 11-7 lead.
Reliever Tanner Roark, who took over for Gonzalez in the fourth, held the Royals scoreless through the eighth but Drew Storen ran into trouble in the ninth. He walked Gordon and Hosmer followed with a double -- his third hit -- to right-center. The Nationals quickly switched to closer Rafael Soriano and Gordon scored as Perez grounded out. Butler singled to right, sending Hosmer to third and Jarrod Dyson ran for Butler and stole second.
Maxwell singled to center, sending two runs home for an 11-10 score. Harper, the right fielder, rushed in for a diving catch of Emilio Bonifacio's looping fly ball for the second out.
"We came within one there in the ninth and I think Harper made a nice play with one out when I was on first," Maxwell said. "If he misses that ball, we've got first and third and one out. Then, you never know what's going to happen."
Harper's catch might have been the game-saver.
"You have to catch that ball in that situation, no matter what," Harper said. "If I drop that ball, he's probably on third base and he would probably score. It was a huge play."
Then Soriano got Alcides Escobar to fly out weakly to left, ending the game.
"It was a weird game," Getz said. "We came out swinging, but they didn't give in. They were putting up some great at-bats and they fouled stuff off. They didn't give away anything and then they capitalized on some stuff. Then, we came back and did the same thing. It was a chaotic game. It's just unfortunate that we came up short."
Dick Kaegel is a reporter for MLB.com. This story was not subject to the approval of Major League Baseball or its clubs.