Swisher's hot hitting comes up clutch for Tribe
Swisher's hot hitting comes up clutch for Tribe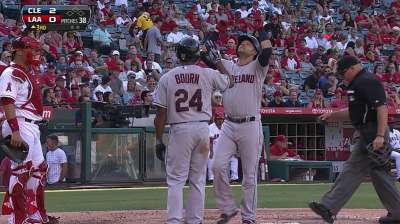 CLEVELAND -- Nick Swisher is not quite sure how to explain his recent improvement in power production. Maybe the Indians first baseman's bothersome shoulder is doing a little better, or perhaps this is simply a hot stretch coming at the right time.
Either way, Swisher and the Indians will take it.
"It's just kind of how baseball is, I guess," Swisher said with a shrug. "You run into those rough patches and then you hit those hot spells. Somebody told me once a long time ago that we ride our hot streaks. That's pretty much how you get your numbers, because this game, guys are so good nowadays."
Heading into Friday's game with Minnesota, Swisher had launched four home runs in 45 at-bats across his past 10 games, during which he posted a .511 slugging percentage. The switch-hitting first baseman's previous four home runs came within a period of 58 games, in which he had an uncharacteristically low .312 slugging percentage in 218 at-bats.
On the year, Swisher is hitting .243 with 15 homers, 20 doubles and 43 RBIs in 111 games.
Throughout this season, Swisher has dealt with a right shoulder issue that has come and gone. He has been forced to do constant maintenance and rehab with the injury, which will likely persist to some extent until season's end. The shoulder has been doing better lately -- to the point where manager Terry Francona has used him as a part-time right fielder again.
"He's been pretty diligent about doing his shoulder program and everything," Francona said. "I think the fact that he can go to the outfield proves that. He's been taking pretty big swings. I jut think that when he forces pitchers to be in the zone, he's going to do some damage."
Swisher said that he is happiest that the home runs have been important to the team.
His two-run shot on Wednesday helped the Indians claim a 3-1 win over the Angels and his ninth-inning solo shot on Monday provided insurance for a 5-2 victory at Los Angeles. On Saturday, Swisher belted a solo homer to set the tone for a 7-1 win in Oakland and his two-run blast on Aug. 11 helped Cleveland ignite a six-run push en route to a 6-5 comeback win over the Halos.
"The timing of it, with us winning, they're helping us win games," Swisher said. "They're not useless home runs in the ninth inning when we're down five or up five. It seems like they mean something. For me, that means a lot. I want to come here and I want to produce some, and I want this organization to do well."
Jordan Bastian is a reporter for MLB.com. Read his blog, Major League Bastian, and follow him on Twitter @MLBastian. This story was not subject to the approval of Major League Baseball or its clubs.