Progressing in rehab, Hammel throws off mound
Progressing in rehab, Hammel throws off mound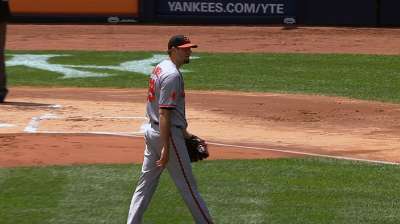 BALTIMORE -- Orioles starter Jason Hammel threw off a mound for the first time on Friday afternoon since going on the disabled list with a forearm injury. He said he felt "outstanding," although the right-hander's role when he returns could involve time in relief.
Hammel, who threw around 45 pitches, will throw a longer mound session on Sunday, and manager Buck Showalter said he could go out on a rehab assignment mid-next week if things continue to go well.
"I would think, for sure, his first appearance there [on rehab] would be as a starter," Showalter said of Hammel, who will likely need two rehab games. "Just to make sure he starts an inning and gets time to warm up and all that, for sure. And then also there's things that could change up here, which dictates that he needs to come back in a certain role."
Showalter hasn't ruled out the Orioles going to a six-man rotation in September, with expanded rosters -- an avenue that could help with his club having just one off-day in the final month.
Asked if Hammel, who last pitched July 25, wouldn't be an option until at least early September, Showalter said: "As a starter, yes. We could have a need here, and we really like what we've seen [from Hammel]. And something could happen physically, knock on wood, and maybe a starter has an issue or something goes wrong, we could kind of push it up a little."
Hammel, who will up his workload on Sunday, was encouraged with how he felt in his initial mound session and said he threw all his pitches, including his slider.
"I'm not trying to stay on the DL. I'm trying to get back, so I might as well let it fly," said Hammel, who had difficulty throwing his slider with the injury. "It felt good for a few days now with the long toss and everything. I probably threw 30 from the stretch, next 15 from the windup and I felt real good."
Hammel, whose DL stint is retroactive to July 29, is 7-8 with a 5.20 ERA in 21 starts. He was placed on the DL initially to clear a roster spot for starter Bud Norris.
The injury, which was first thought to be pretty minor, has taken longer than anticipated for Hammel to come back from, and the O's could have a logjam in the rotation upon his return, which is why the bullpen is an option. Hammel was a member of the Rockies' bullpen at the end of 2011.
Brittany Ghiroli is a reporter for MLB.com. Read her blog, Britt's Bird Watch, and follow her on Twitter @britt_ghiroli. This story was not subject to the approval of Major League Baseball or its clubs.