Arroyo: Braun should have spoken publicly
Arroyo: Braun should have spoken publicly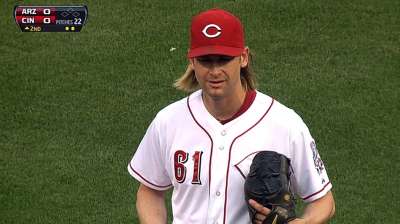 CINCINNATI -- Brewers left fielder Ryan Braun, who was suspended for 65 games in July for violating Major League Baseball's Joint Drug Prevention and Treatment Program, admitted in a lengthy written statement issued Thursday that he did take banned substances.
Braun did not specifically name the substances he used, but wrote that he used them to aid in his recovery from an injury late in the 2011 season. He also apologized to teammates and fans and for doing "any damage to the game."
Reds pitcher Bronson Arroyo is not among those who have read and digested Braun's statement. In fact, Arroyo feels that Braun should have apologized in an interview or press conference, rather than in statement form.
"I think, the right way to handle it -- you always talk about how nobody wants to be broken up with over a text message, right?" Arroyo said on Friday. "At the end of the day, I feel like if you want to be authentic and you want people to feel it, it's very difficult for that to happen when people read things. That's why we say things in the paper that sometimes gets misconstrued. People don't understand the intent of the words that you said. But if you can see the body language and intonation in my voice, then you can make that discrepancy.
"If you do something on that large of a scale, you sit and have a press conference and let people shoot questions at you and you shoot them straight. That's the best way to clear the air."
Mark Sheldon is a reporter for MLB.com. Read his blog, Mark My Word, and follow him on Twitter @m_sheldon. This story was not subject to the approval of Major League Baseball or its clubs.