Addition of Dice-K alleviates Mets' rotation issues
Addition of Dice-K alleviates Mets' rotation issues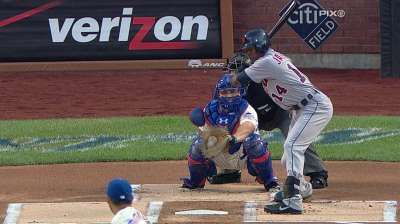 NEW YORK -- No reflection on Carlos Torres, insist the Mets, that he will remain in the bullpen while Daisuke Matsuzaka takes the ball every fifth day the rest of the season.
"This is not about being unhappy with Carlos," said Mets general manager Sandy Alderson. "This is about Carlos being a very important part of our bullpen.
"To put him out of there and put him in the rotation was going to weaken us, we felt, in the 'pen."
Matsuzaka got the start Friday night at Citi Field against the Tigers, one day after exercising an out clause in his contract with the Indians and joining the injury-depleted Mets. What had briefly been a six-man rotation upon the return of Jon Niese on Aug. 11 -- designed with the intent of protecting young arms like Matt Harvey and Zack Wheeler -- was quickly reduced to four by injuries to Jeremy Hefner and Jenrry Mejia.
Matsuzaka, who went 5-8 with a 3.92 ERA in 19 starts this season for Cleveland's Triple-A team in Columbus, became the unexpected -- but best -- option.
"When it became necessary to fill that fifth spot, we looked internally and really were faced with the fact we had a number of young [Triple-A] pitchers [Rafael Montero and Jacob deGrom] whom we felt would do a nice job for us, but are running up against inning limits," said Alderson. "And even in cases where we might get a couple of starts out of someone, we were a little reluctant to bring them to the Major League level and maybe overthrow, overexert and, near the end of their innings quota, come down with an injury.
"The other factor is we have five, six teams in pennant races at the Minor League level, and as a secondary consideration, we wanted to do as little as possible to disrupt those teams.
"Fortuitously, Dice-K became available. He had pitched very well in his recent outings [at least seven innings in seven of his last nine starts] and fit nicely into our rotation -- with a little bit of a nudge, because he is pitching on three days' rest this time.
"We're happy to have him, he fills a need for us until the end of the season."
The Mets signed Matsuzaka, who was 1-7 with an 8.28 ERA in 2012 -- his last season with the Red Sox -- under no pretense that this is the pitcher who won 18 games in 2008 for Boston.
"But he knows how to pitch," said Mets manager Terry Collins. "He has some finesse going for him.
"He pitched very effectively the last couple of weeks, which is a great sign coming in here. We're all anxious to see him."
Jay Greenberg is a contributor to MLB.com. This story was not subject to the approval of Major League Baseball or its clubs.