In Dice-K's return, Mets unable to scratch Tigers
In Dice-K's return, Mets unable to scratch Tigers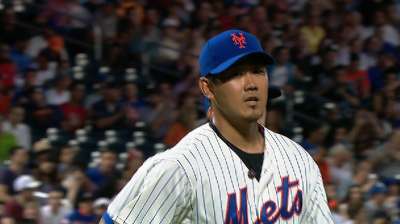 NEW YORK -- After 10 months longing for the day he pitched again in the Major Leagues, Daisuke Matsuzaka was surprised to learn how much his nerves had built up over that time, too.
"Today was my first Major League start in a while, and I was a little bit more nervous than I expected to be," he said. "The homers that came those two innings woke me up."
Rocked for homers by Torii Hunter in the first inning and Miguel Cabrera in the second, Matsuzaka made it -- the hard way -- against one of the hardest lineups in the Major Leagues. His return to the big leagues after spending the first four-plus months of the 2013 season with Cleveland's Triple-A affiliate in Columbus, ended in a 6-1 defeat by the Tigers at Citi Field.
The Mets, down two injured starters, signed Matsuzaka on Thursday to get them through the season, then pitched him on three days' rest Friday night in the hopes he could get them through five innings.
Hunter's homer, well back in the left-field stands, came on an 0-2 fastball. Cabrera's three-run shot, even farther back in the left-field stands, came on a first-pitch fastball following Hunter's RBI double.
"I don't think it was a bad pitch, but [Cabrera] is the type of batter who hits pitches that pitchers don't think is a bad pitch," said Matsuzaka.
Cabrera's homer was the last hit the Tigers managed against the 32-year-old, who retired the final 10 batters he faced.
"He made some mistakes that we took advantage of," said Hunter. "Then he was able to make some adjustments to get us out."
The Mets say they have fully adjusted all expectations down from the pre-Tommy John surgery Dice-K who won 18 games for Boston in 2008. In a pinch, they will take the one who recorded four strikeouts and issued one walk while throwing 86 pitches of the 85-90 manager Terry Collins had allocated before Friday's game. Matsuzaka allowed six hits and five runs against a lineup of relentless pressure and came away with something positive to take into his next turn in the rotation.
"From the third inning on, I was able to settle down and go back to what I worked on this year in Triple-A," Matsuzaka said. "It convinced me I can keep Major League batters off the bases if I continue to do what I have been doing.
"If I had an offer from a team in the playoff race, that would have been great, but the Mets came with an offer quickly and wanted me up in the big leagues now. The decision was easy.
"My goal is to pitch every five days and pitch well to lead into next season. But I am not thinking about next season -- [I'm] thinking about my next start. I hope to improve every time I go out there."
Once Cabrera went deep, Dice-K seemed to improve with every batter, striking out Cabrera the next time and twice retiring Prince Fielder. Granted, the damage already was done.
The Mets tried to put some heat on Tigers starter Doug Fister from their first batter. Eric Young Jr. singled, stole second on Victor Martinez in his first start behind the plate since Aug. 4, 2011, then scored on Marlon Byrd's single to briefly tie the game at 1.
The Mets had three more threats against Fister. One was mounted in the fourth on two-out singles by Wilmer Flores and Juan Lagares before Travis d'Arnaud flied out. In the sixth, Byrd doubled to lead off the frame but had to stop at third on Flores' bullet line drive to left before Fister got Lagares to ground into a nicely turned double play by Cabrera to Omar Infante to Fielder to end the inning.
When Omar Quintanilla singled and pinch-hitter Andrew Brown walked against tiring Fister, Drew Smyly came on to strike out Young and get Daniel Murphy to fly out. "Nine hits, eight singles," said Collins.
That pretty well summed up the Mets' efforts. Austin Jackson's solo homer in the seventh off Carlos Torres made it three home runs to none, and the Mets did even less against relievers Smyly, Jose Veras and Bruce Rondon than they had against Fister. He made pitches when he had to, which Matsuzaka did not.
"His velocity is not the same," said Collins. "The arm issues have caused it to go down but I'll tell you what, his breaking stuff is still very good.
"The last few innings he was very good. He used his off-speed pitches to set up his fastball pretty effectively, I was real impressed. We'll take the last three and move into the next start with that in mind."
Jay Greenberg is a contributor to MLB.com. This story was not subject to the approval of Major League Baseball or its clubs.