Rangers hit five homers, claim ninth straight road win
Rangers hit five homers, claim ninth straight road win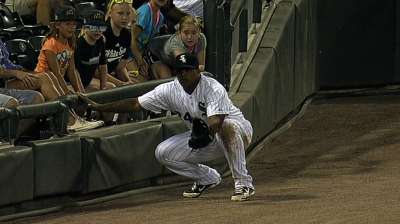 CHICAGO -- Five Rangers home runs more than erased a rough second inning for left-hander Martin Perez on Friday night, as Texas continued its August run with an 11-5 win over the White Sox at U.S. Cellular Field.
Jeff Baker, Adam Rosales, Adrian Beltre and Mitch Moreland each homered, and Ian Kinsler added a controversial inside-the-park home run, as the Rangers won their fourth straight and pushed their road winning streak to a franchise-record-tying nine games (July 22-Aug. 2, 1977).
The win, coupled with Oakland's loss, extended the Rangers' American League West lead to 3 1/2 games over the A's.
"We're playing really good baseball, we're having a lot of fun and we're going to try to continue this as long as we can," Kinsler said.
Texas certainly extended its winning ways Friday, as the Rangers won for the 19th time in their last 23 games by pounding White Sox All-Star Chris Sale to the tune of eight runs in seven innings.
The four-homer yard sale by the White Sox lefty was a career high, while the eight runs matched the most Sale has ever allowed (April 13 against Cleveland).
"I really have no excuses in my corner," Sale said. "My arm felt good, my body felt good, my mind was right. I felt like my stuff was good. Sometimes you just get beat."
While former White Sox A.J. Pierzynski (1-for-4) and Alex Rios (2-for-5) received much of the pregame attention from media and fans -- with Pierzynski getting loud cheers, a standing ovation and a first-inning video tribute -- it was another former Chicago player who began the home run derby in the second.
Baker, a former Cub, launched a two-run homer in the second inning, and Rosales -- making his first start as a Ranger after being pin-balled between Texas and Oakland -- followed suit two batters later with a two-run shot.
Rangers manager Ron Washington started Rosales because of his career numbers against Sale -- now 5-for-10 with two homers -- while both of Baker's hits against Sale have left the yard.
Kinsler's controversial inside-the-park homer came the next inning when his soft liner down the left-field line got wedged under the padding along the wall. White Sox left fielder Dayan Viciedo couldn't find it and put his hands up while crouching next to the wall, but Kinsler continued to motor around the bases and scored easily.
White Sox manager Robin Ventura argued the call and was ejected.
"[Third-base umpire Greg Gibson] just said he saw it," Ventura said. "I figured [Viciedo] got on his hands and knees to go get it, you'd think it would be lodged under there pretty good and they'd rule a double. But they didn't."
Kinsler said he just kept running, while Washington said he thought the correct call was made.
"The ground rules say if the ball is trapped and visible you've got to go get it. It was visible," Washington said.
Beltre's 27th blast came in the fifth, while Moreland added a pinch-hit, two-run shot in the eighth off Dylan Axelrod. It was the first pinch-hit homer by the Rangers this season, and the first time in franchise history the Rangers hit a pinch-hit home run and inside-the-park home run in the same game.
Those homers made up for an excruciating second inning.
Perez followed Sale's struggles in the top half of the inning by allowing the first three batters in the bottom of the frame to reach, the last of which was a two-run single by Viciedo, who later scored.
Perez needed 31 pitches to get through the second, which proved to be an aberration. The lefty allowed one run on two hits the rest of the way while retiring the last nine batters he faced.
"In the second inning, I was thinking too much. My mind was going a little bit too fast," Perez said. "It's not just about your body. You have to be relaxed in your mind, too."
It wasn't all power for the Rangers on offense, though. Rangers center fielder Leonys Martin stole second in the seventh inning, marking the eighth straight game the Rangers have stolen a base -- one game shy of the franchise record set in 1977.
The Rangers have relied more on speed this season than in the past, ranking second in the AL in stolen bases. But that doesn't mean they've lost their pop, as they still sit sixth in the league in homers.
Now, Washington said, they're simply more well-rounded.
"We've got guys who can hit the ball out of the ballpark. We just haven't been hitting it out of the ballpark," Washington said. "So all that tells me is that people can win baseball games many, many ways -- not just with the long ball. I know that's been something that's been real prevalent in Texas, but Texas is complete now. We can play baseball anyway we have to play it."
And right now, whichever way the Rangers choose usually ends with a win.
Cash Kruth is a reporter for MLB.com. Follow him on Twitter at @cashkruth. This story was not subject to the approval of Major League Baseball or its clubs.