Marlins end stretch against tough lefties
Marlins end stretch against tough lefties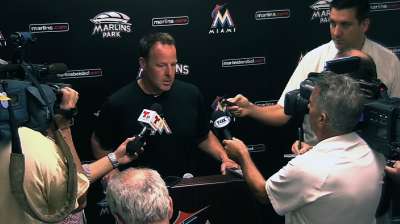 MIAMI -- As the Marlins close out their 10-game homestand against the Rockies this weekend, so ends a stretch in which the team faced four left-handed starters in its last five games.
It began on Sunday, when San Francisco's Madison Bumgarner took the mound. Los Angeles then pitched Hyun-Jin Ryu, Chris Capuano and Clayton Kershaw during a four-game set.
Miami split those matchups, winning the first two while dropping the final two. In the 25 1/3 innings those four pitched, the offense scored 10 runs -- nine earned.
Entering Friday, the Marlins had the lowest batting average (.227) of all big league teams, just behind the Nationals (.228), and the third fewest runs scored (114) against southpaws.
The Marlins didn't face a lefty starter in Friday's 3-2 loss to the Rockies, but Colorado's lefty closer Rex Brothers pitched a 1-2-3 ninth inning with two strikeouts.
"Statistically, we haven't done really well against left-handed pitching, but I thought despite losing three out of four to the Dodgers we swung the bat all right," Marlins manager Mike Redmond said. "We didn't get a ton of hits in those games, but I thought even with [Zack] Greinke, we swung the bat really well. We just didn't get a whole lot to show for it."
Redmond believes his team had a good approach -- pointing to several long outs and line drives the offense couldn't capitalize on. With several rookie starters, the offense continues to be a work in progress.
"Offensively, we have some challenges there and left-handers have been a bigger challenge than righties," Redmond said. "Guys' approaches have been solid, and I think as we face more and more lefties down the road we'll continue to get better."
Christina De Nicola is a contributor to MLB.com. This story was not subject to the approval of Major League Baseball or its clubs.