Wheeler's clutch hit gives Chacin, Rockies win
Wheeler's clutch hit gives Chacin, Rockies win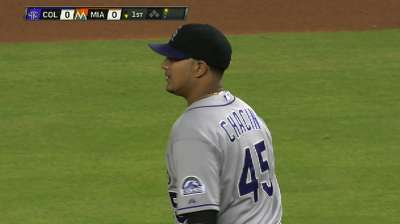 MIAMI -- Visits to South Florida have not been exactly fun in the sun for Jhoulys Chacin and the Rockies in the past. Perhaps their final visit of the 2013 season will be more pleasant, if Friday night's 3-2 win is any indication.
The Rockies started the first of a three-game series against the Marlins with a comeback win that earned Chacin his first win in four starts against Miami. He also improved to 5-4 in 11 starts on the road, where the Rockies have struggled to win.
"We could have very easily won three of four in Philly, but we couldn't finish it out," Rockies manager Walt Weiss said following his team's victory in front of 19,253 at Marlins Park. "We've played a lot of close games this year. We compete well every night, but sometimes you get kicked in the stomach. It was good to win a tough one tonight."
On a typical steamy night in Miami, the Rockies found a way to scratch out a win to begin the last leg of their 10-game road trip. Ryan Wheeler's two-out double that scored Michael Cuddyer in the eighth inning provided the Rockies' margin of victory, and the Colorado bullpen secured it with back-to-back 1-2-3 innings by Adam Ottavino and Rex Brothers, who each had two strikeouts.
Cuddyer's RBI single in the eighth scored Troy Tulowitzki, who had doubled, to tie the game at 2 and set the stage for Wheeler's game-winning hit.
"He's a very smart player. He sits on pitches, and he's really good with guys in scoring position," Weiss said of Cuddyer. "[And] that was a huge hit by Ryan. He's had a heck of a year in Triple-A, but he hasn't had that many at-bats for us up here, but that was a huge hit right there."
It was Wheeler's first Rockies RBI in his eighth game with the club.
Chacin earned the win to improve to 12-7. The right-hander went seven innings, allowing two runs on four hits and four walks with five strikeouts. He threw 103 pitches, 65 for strikes, before giving way to the bullpen.
"I was trying to throw down and get quick outs," said Chacin, who returned to the team after attending his grandmother's funeral in Venezuela. "I feel fine and I'm happy with the win. I haven't done that [100-plus pitches] too many times, but I feel fine, and I'm happy they gave me the chance to finish that [seventh] inning."
The Marlins took a 2-1 lead with two outs in the seventh, but Weiss opted to stick with Chacin. He struck out Christian Yelich to end the inning.
"Our bullpen was beat up tonight," Weiss said. "Jhoulys did a great job of battling. He has been great at getting out of tough spots. He's earned the right to work through some jams. He's been really good at staying away from big innings."
Weiss also was pleased with the relief perfomances of Ottavino, who pitched the eighth, and Brothers, who picked up his 12th save in 13 chances. Brothers has been placed back into the closer's role while Rafael Betancourt awaits the results of an MRI on his injured elbow.
"Like I said before the game, I like him in the game, period, I don't care if it's the seventh, eighth or ninth," Weiss said of Brothers. "He's tough to hit. I like him in the game with the game on the line."
Miami third baseman Ed Lucas broke a scoreless tie in the fifth inning, when he deposited Chacin's first pitch over the wall in left-center. It was only Lucas' third home run this season.
That lead was short-lived, as the Rockies knotted the score in the sixth, when DJ LeMahieu led off the inning with a triple to the gap in left-center and scored two batters later on an infield grounder by Cuddyer.
Chacin began showing signs that he might be tiring in the sixth, when the Marlins loaded the bases on a double and back-to-back walks. But he pitched out of the jam, and Weiss let Chacin bat in the seventh with two outs, and Chacin singled to center.
That set the stage for the seventh, when the Marlins regained the lead on a sacrifice fly by pinch-hitter Greg Dobbs after Jake Marisnick hit a one-out triple down the right-field line on Chacin's 100th pitch.
Miami starter Tom Koehler stifled the Rockies through seven innings. The right-hander allowed only one run on six hits and struck out five.
"He pitched really well against us at Coors Field [earlier this season], and it's tough for a young kid to come into Coors Field and do what he did," Weiss said of Koehler. "From the first inning, I said it's going to be tough to score runs. But we scratched and clawed and found a way to win this one."
Steve Dorsey is a contributor to MLB.com. This story was not subject to the approval of Major League Baseball or its clubs.