Marisnick still waiting to find his groove
Marisnick still waiting to find his groove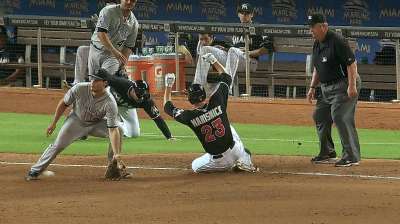 MIAMI -- Jake Marisnick found himself back in center field and hitting seventh in the order for Miami's series opener against the Rockies on Friday night after his third day off since he was called up on July 23.
Through 27 games entering Friday, the 22-year-old -- who is the team's second-ranked prospect behind outfield mate Christian Yelich -- was hitting .182 with one double, one home run and four RBIs.
But in Friday's 3-2 loss to the Rockies, Marisnick hit his first career triple as part of a 1-for-4 night, and scored on Greg Dobbs' sac fly.
"The way it's been going [with me] struggling a little bit -- it's no secret -- I think it was to give me the day to relax and get my thoughts together and get back out there and get me in a groove," Marisnick said.
Marisnick, who missed the first month of the Minor League season with a broken hand, said he experienced similar difficulties during his time in Double-A.
This May, he hit .248 with six home runs and 24 RBIs, but wrapped up his stint with Double-A Jacksonville batting .294 with 12 homers and 46 RBIs, leading to his promotion.
"I've done it at every level I've been at once I'm called up. I don't know if it's when I first get there I try to do too much and I lose focus of what I've been trying to do," Marisnick said. "I think that has something to do with it.
"I came up here wanting to hit home runs and got my swing pulling off the ball and trying to do too much. I think over time it won't be a big problem."
Christina De Nicola is a contributor to MLB.com. This story was not subject to the approval of Major League Baseball or its clubs.