Maholm can't contain Cardinals in return
Maholm can't contain Cardinals in return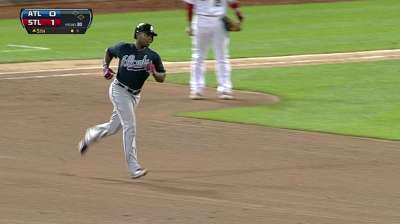 ST. LOUIS -- Paul Maholm was providing the Braves exactly what they needed as they spent their first day without Jason Heyward. But a costly walk to one of the less dangerous hitters in St. Louis' potent lineup led him to yet another disappointing road start.
Maholm's costly one-out walk to Pete Kozma set the stage for Matt Carpenter, Carlos Beltran and Matt Holliday to tally the three consecutive two-out, fifth-inning doubles that guided the Cardinals to Thursday night's 6-2 win over the Braves at Busch Stadium.
"They're a good lineup, and it's a challenge to go through it," Maholm said. "The first four innings, I made my pitches. I just got to where you miss and they take advantage."
One day after seeing a Heyward suffer a fractured jaw that will sideline him for at least a month, the Braves were aiming to extend their winning ways without their valuable outfielder. But after Justin Upton's eighth home run of this month provided what proved to be a brief 2-1 lead in the fifth, Maholm put himself in position to fall victim to St. Louis' opportunistic offense.
With what was just their fifth loss in their past 25 games, the Braves saw their lead over the Dodgers in the battle for the National League's best record shrink to 1 1/2 games.
"It took a toll on us yesterday, losing Jason," Upton said. "It's rough. But we'll get back on our feet and be ready to go."
Making his first start since bruising his left wrist on July 20, Maholm looked much more effective than he had when he allowed at least four runs in the three starts leading up to his trip to the disabled list. He allowed five runs -- four earned -- and five hits in 5 1/3 innings. Most of that damage was incurred after he retired two of the first three hitters he faced in the fifth.
Maholm exited the fourth inning having retired 10 of the 11 batters he had faced after issuing consecutive two-out walks in a scoreless first inning. The only hit he surrendered during this span was Holliday's leadoff double that led to a run courtesy of David Freese's weak one-out chopper in the fourth inning.
The tone of the evening and the game's complexion changed in the fifth when Maholm issued a six-pitch walk to Kozma, who entered the game hitting .220 with a .273 on-base percentage.
"I can't go out there and blow a 95-mph fastball by somebody, but if my mechanics are good and I'm able to mix four pitches in and out, I'm going to take my chances," Maholm said. "For four innings, it worked. Unfortunately, the walk killed me and I wasn't able to make the pitch."
Maholm was unable to locate the 3-2 fastball he threw to Kozma. Then, after Cardinals starting pitcher Joe Kelly aided his cause with a sacrifice bunt that accounted for the second out in the fifth, Maholm allowed Carpenter, Beltran and Holliday to give St. Louis a 4-2 lead with their three consecutive RBI doubles.
Carpenter and Beltran notched their hits on two-strike pitches.
"I still put myself in position with two outs and two strikes and nobody had scored yet," Maholm said. "For three hitters, I made three bad pitches."
Count Maholm as the latest to fall victim to the consistent timely hitting produced by the Cardinals, who entered Thursday having hit a Major League-best .299 with two outs and runners in scoring position. The Tigers ranked second with a .262 batting average in these situations.
Taking advantage of Heyward's absence, Kelly scattered seven hits over six innings and improved to 4-0 with a 2.19 ERA in five starts this month. The only two runs surrendered by the 25-year-old right-hander came courtesy of the two-run home run Upton sent over the left-center-field wall in the fifth inning.
"I went out there and started kind of nibbling too much and missing arm-side," Kelly said. "I was just trying to compete. I didn't have any of my good stuff today. I couldn't throw anything off-speed over the plate. The changeup is usually my pitch. I couldn't do that. But I tried to make timely pitches when guys got on base and got some outs. I just tried to battle the whole time."
Upton is in the midst of a power surge that has been reminiscent of the one he produced while belting a Major League-best 12 homers during the season's first month. His eight home runs through his first 16 games this month are one shy of the total he produced through this same stretch in April.
But Upton's latest blast was not enough to allow Maholm to experience what has been rare success outside of Atlanta. He has compiled a 1.93 ERA in seven home starts and a 6.08 ERA in 14 road starts.
"I've got to figure it out on the road," Maholm said. "I've got to make better pitches and I've got to manage the lineup and not put yourself in situations that can hurt you."
Mark Bowman is a reporter for MLB.com. This story was not subject to the approval of Major League Baseball or its clubs.