Clutch Cards open tough stretch, beat Braves
Clutch Cards open tough stretch, beat Braves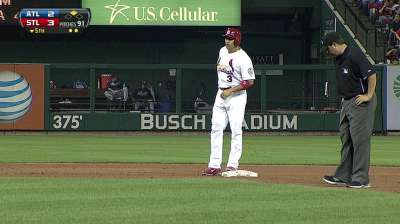 ST. LOUIS -- After sloshing their way through a recent 15-game stretch that had them playing four potential postseason opponents, the Cardinals began a second such test on Thursday night looking to justify their standing among the league's best.
There was much more for St. Louis to like about the manner in which this one got started.
Facing an Atlanta club that had initiated St. Louis' recent 4-11 skid with a three-game sweep in late July, the Cardinals found some redemption in front of a Busch Stadium crowd of 37,363. Riding a succession of fifth-inning doubles and another quality start from Joe Kelly, the Cardinals opened a seven-game homestand with a 6-2 victory over the top team in the National League East.
The win was the Cards' sixth in their last eight games, helping them keep pace with the Pirates, who entered the day a game ahead in the NL Central standings. How the club fares during its next 16 games -- all of which will be against Atlanta, Pittsburgh and Cincinnati -- will bring further clarity to how the Cardinals measure up against looming October foes.
"We've got a chip on our shoulder from that experience," said Matt Carpenter, who had his NL-leading 49th multi-hit game. "We played those teams [in late July/early August] and didn't play well.
"I compare it to when you have a good hitter and he goes 0-for-30, you know he's eventually going to come back and start hitting the ball again. I think it's the same way with this club. Against these teams, we played them and yeah, they got ugly. But we know we have a good team, and we have a chance to come back and win all of these games.
The Cardinals' offense revisited its defining quality of 2013 by coming through with four key hits with a runner in scoring position. Each drove in a run.
Down 2-1 following Justin Upton's two-run blast in the top of the fifth, the Cards extended the bottom half of the frame with three consecutive two-out doubles. A one-out walk to Pete Kozma and sacrifice bunt by Kelly turned the lineup over. Carpenter, now hitting .400 with runners in scoring position, then tied the game with a double.
Run-scoring doubles by Carlos Beltran and Matt Holliday pushed the Cardinals' lead to two.
"Getting hits like that, it doesn't happen a lot, it's just hard to get," Beltran said. "It seems like this year for us, it's been something that has been working for us. It seems like we're concentrating a little bit more with guys in scoring position and we're getting it done."
The Cardinals, who are hitting a Major League-best .327 as a team with runners in scoring position, have seven players hitting better than .350 with at least 50 at-bats in such spots. Even David Freese, one of the few to not thrive in at-bats with runners on second and/or third this season, came through before night's end.
After driving home a run with a groundout in the fourth, his two-out RBI single in the seventh capped the Cardinals' scoring.
"They're a good lineup and it's a challenge to go through it," said Braves starter Paul Maholm, who was making his first start since July 20. "The first four innings, I made my pitches. I just got to where you miss and they take advantage."
That lead, which would be padded with an unearned run off Maholm and another off reliever Anthony Varvaro, was in steady hands with Kelly. The most reliable pitcher in the Cardinals' rotation since the All-Star break, Kelly continued his roll.
Now 5-0 since becoming a permanent member of the rotation, Kelly threw a career-high 109 pitches in order to finish six innings. That was much-desired length for Mike Matheny, who was managing one man short in the bullpen. Edward Mujica was deemed unavailable before the game due to tightness in his upper back.
Kelly stranded six Braves on base while battling with what he described as less-than-ideal command of any of his pitches.
"I just kept missing and missing, and it was frustrating," Kelly said. "I just wanted to go out there and keep battling, even when you don't have your best stuff. ... Tonight, I was just fighting and scratching for anything to work up there. That's huge to know that you can get ground balls even when you don't have your best stuff."
Kelly induced a double play to erase a leadoff single in the fourth. Those accounted for two of 11 outs he recorded on the ground. Kelly also struck out three.
"I'm hoping he's just seeing the benefits of when he does get the ball on the ground, what can happen," Matheny said. "As he starts to pile up a lot of pitches, he makes a good pitch and all of a sudden a double play gets him out of the inning. That is really who I believe he should be. He still can strike a guy out, but I think he's going to continue to have a lot of success as he's working at the bottom of the zone and trusting his defense to play behind him."
Though Kelly allowed his first home run since July 6, he's done little else to find fault with since stepping in to steady the rotation. His personal five-game winning streak matches a Cardinals high this season, and the club is 7-1 since he transitioned to the rotation.
In the eight starts since that role change, Kelly has a 2.33 ERA.
"I love when he goes out there and competes," Carpenter said. "He's aggressive and pitching with confidence. When you have a clubhouse that sees that, you go into the game knowing we're going to get a good start. That's where you want to be as a pitcher, and that's what he's got going."
Jenifer Langosch is a reporter for MLB.com. Read her blog, By Gosh, It's Langosch, and follow her on Twitter @LangoschMLB. This story was not subject to the approval of Major League Baseball or its clubs.