Giants bring back Peguero, Noonan
Giants bring back Peguero, Noonan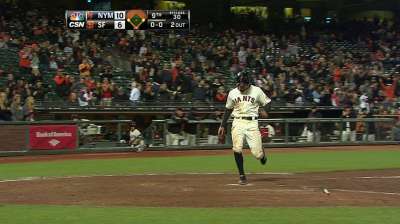 SAN FRANCISCO -- Short-term necessity and long-term priorities prompted the Giants' latest round of roster moves Thursday.
They recalled infielder Nick Noonan and outfielder Francisco Peguero from Triple-A Fresno while optioning left-hander Mike Kickham to Fresno and placing outfielder Andres Torres on the 15-day disabled list with a strained left Achilles tendon.
Though Torres' ailment obviously wasn't planned, his being sidelined hastened the Giants' plans to take a closer look at left-field candidates. Peguero will be part of that mix, along with Brett Pill, who started Thursday night's series opener against the Pittsburgh Pirates. Roger Kieschnick, who already has started 16 games in left, also is likely to receive more opportunities.
"It's fair to say where we're at, we feel we're going to do some evaluating," Giants manager Bruce Bochy said. "These young guys are going to get these at-bats."
Including Gregor Blanco, whom Bochy said will continue to receive playing time, the left-field picture is a crowded one.
"We'll try to mix and match out there," Bochy said.
Peguero has spent most of the season with Fresno, batting .318 with three home runs and 29 RBIs in 66 games. He also hit .188 in six games with the Giants in early May.
Bochy indicated that Kickham, a full-time starter in the Minors, will rejoin Fresno's rotation. Kickham returned to Triple-A, Bochy explained, because the rookie threw 68 pitches during his four-inning relief stint Wednesday against Boston and won't pitch again until he makes his next start. Meanwhile, given second baseman Marco Scutaro's need for rest and third baseman Pablo Sandoval's tenuous health, the Giants need Kickham's roster spot for infield depth.
Noonan, who made the Giants' Opening Day roster out of Spring Training, batted .213 with four RBIs in 52 games during scattered stints in the Majors. He also hit .252 with 18 RBIs in 40 games for Fresno.
"Pablo's banged up. I was short [of players] yesterday," Bochy said. "We were getting boatraced [in a 12-1 loss to Boston], and I couldn't take out Scutaro."
Chris Haft is a reporter for MLB.com. This story was not subject to the approval of Major League Baseball or its clubs.