Zito to get another start against Rockies
Zito to get another start against Rockies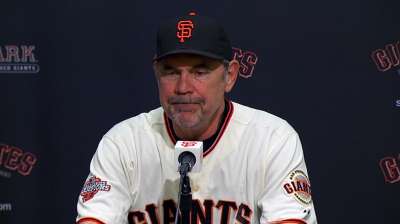 SAN FRANCISCO -- Manager Bruce Bochy announced Thursday that under existing circumstances, Barry Zito will remain in the Giants' starting rotation to face the Colorado Rockies on Monday.
"We're not going to change anything. That's the plan right now," Bochy said.
Removed from the rotation Aug. 2, Zito made four relief appearances before being named to replace the injured Chad Gaudin to start Wednesday against Boston. Zito pitched a scoreless first inning but was victimized by subpar defense and Will Middlebrooks' second-inning home run. The left-hander ultimately allowed six runs and seven hits in 3 2/3 innings.
Overall, Zito is 4-9 with a 5.63 ERA in 26 appearances, including 22 starts.
Chris Haft is a reporter for MLB.com. This story was not subject to the approval of Major League Baseball or its clubs.