Backstop repaired after two balls disappear
Backstop repaired after two balls disappear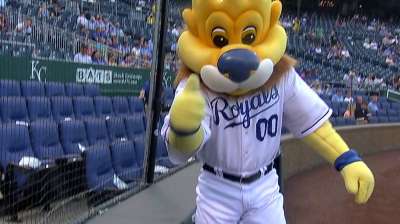 KANSAS CITY -- Perhaps the rash of disappearing baseballs has been cured.
On Thursday, workmen installed a new mesh sign behind home plate where a baseball had vanished during back-to-back Royals-White Sox games at Kauffman Stadium.
An Ervin Santana pitch got past catcher Salvador Perez for a passed ball on Tuesday night and broke through the sign commemorating the stadium's 40th anniversary. It disappeared -- poof! It was ruled a dead ball and the White Sox scored a run. It also was a ballpark first.
"That's why they call me 'Magic,' " Santana said. "Disappearing balls."
The tear was patched with tape afterward and a new mesh sign was ordered. But it didn't arrive in time for Wednesday night's game and, against all odds, a wild pitch from Jeremy Guthrie hit in virtually the same spot and dropped out of sight through the weakened area.
Once again Perez was chasing a ball that vanished. Holy horseside! What could be done?
"Pitchers got to throw strikes," Perez said slyly.
At any rate, the new sign arrived and was installed on Thursday afternoon with a 1-by-6 (inches) board behind it at the top to provide additional stability. The material has to be mesh to allow sound to penetrate to the three microphones installed behind the sign to pick up crowd and on-field noise for radio and TV.
The sign, mounted between two rotational advertising boards, was later tested with thrown baseballs. They did not disappear and bounced back toward home plate.
Kathleen Gier is an associate reporter for MLB.com. Dick Kaegel is a reporter for MLB.com. This story was not subject to the approval of Major League Baseball or its clubs.