Wilson makes Dodgers debut, closes out win
Wilson makes Dodgers debut, closes out win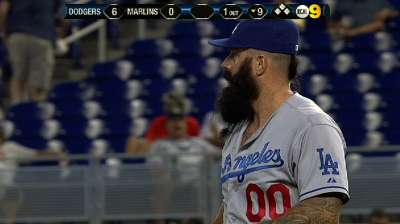 MIAMI -- There's a scar across his elbow and Dodgers blue across his jersey, but Brian Wilson said it was business as usual Thursday.
He pitched the ninth inning, his first Major League game since Tommy John surgery last season and first as a Dodger. He had a six-run lead, so there was no save in the balance, but he described it in a word rarely associated with his eccentric persona.
"It was normal," said the bearded and mohawked former Giants closer. "Long overdue. It's been a very arduous process. I'm glad I went through it. I appreciate this more."
Wilson opened with slugger Giancarlo Stanton and caught him looking at an inside slider after throwing a 94-mph fastball by him. Pinch-hitter Greg Dobbs tried to spoil the event with a two-out double, but former Dodgers farmhand Justin Ruggiano struck out to end the ninth.
"I felt like I hadn't skipped a beat," said Wilson. "I guess I was more nervous and excited in the bullpen."
He said he wasn't really worried whether he would succeed on the mound, considering the long road he's already traveled success in itself.
"I only have a brief moment out there and I can either crumble or rise to the occasion," he said. "Crumbling, I don't want to do, so I have to rise to the occasion. I am fortunate to come back and get in a game. If you want to talk checklist, I guess this is the final check.
"I ran out there like I have dozens of times. Head down, at a certain angle until I get to the dirt, walk in, grab the ball. I didn't treat it as special. I've had 17 months to think about it and got over it three or four weeks after the surgery, a time to reflect on all the negativity."
His new teammates were happy for him, and for them, because he's expected to provide unflappable experience when the pressure gets cranked up in September and October.
"He just came in throwing strikes," said manager Don Mattingly. "It was pretty impressive. He hasn't been on the mound in a Major League game in quite awhile. It's hard to know what he's going to be. He was throwing strikes and his stuff seemed sharp."
"He's somebody that can help us out," said catcher A.J. Ellis. "He has a great demeanor on the mound. He got the last out in the World Series [in 2010]. He won't get rattled in tough situations."
"I was really happy for him," said Clayton Kershaw. "It's not easy to be gone two years. I'm sure there were nerves for him. It's cool to see him make it all the way back. He's a good guy who works hard. He fits right in this clubhouse."
Ken Gurnick is a reporter for MLB.com. This story was not subject to the approval of Major League Baseball or its clubs.