Kershaw stymies Marlins with eight-inning gem
Kershaw stymies Marlins with eight-inning gem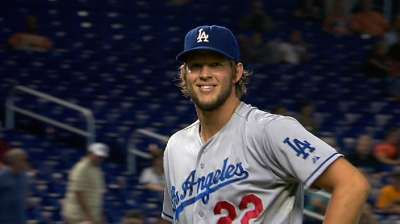 MIAMI -- Clayton Kershaw wasn't quite right Thursday, which for him means that he still pitched eight scoreless innings, combining with Brian Wilson (how strange is that?) as the Dodgers blanked the Marlins, 6-0.
Kershaw also singled home the first run of a three-run fourth inning, followed by Carl Crawford's two-run double, as the Dodgers finished a two-city eastern trip 5-2. They are 28-5 since the All-Star break, 45-10 since June 22 and 22-3 in their last 25 road games. They took three of the four games with the Marlins and haven't lost a series since mid-June.
More important, with Arizona's loss, the Dodgers extended their division lead to a season-high 9 ½ games.
Kershaw has allowed 11 runs in his last 10 starts. He improved his record to 13-7, lowered his Major League-leading ERA to 1.72 (Sandy Koufax's career low was 1.73) and wasn't even on his game.
He walked three, a high for the past two months, two of them leading off innings. He pitched out of the stretch in all but two innings. But Nick Punto, starting at shortstop for a resting Hanley Ramirez, triggered three double plays behind him, and Skip Schumaker bailed him out of a couple other jams by robbing the Marlins of hits.
"It could have gone a lot different," said Kershaw. "In a lot of ways, I was fortunate to get out of the game without giving up any runs."
Wilson pitched a scoreless ninth inning in his Dodgers debut and first Major League game since undergoing Tommy John surgery and departing the Giants.
Kershaw finished with six strikeouts in his 11th consecutive quality start. He's part of a starting rotation that is 17-2 in the last 26 games. This was the staff's 17th shutout, which leads the Majors.
Kershaw, though, gave an immediate indication of command issues when he walked Christian Yelich on four pitches leading off the bottom of the first inning. The Marlins put runners in scoring position each of the first three innings, but Kershaw wiggled out of each jam. The Marlins went 0-for-7 with runners in scoring position.
"I was terrible the first couple innings," said Kershaw. "I didn't have fastball command."
Kershaw said he never really found it. With catcher A.J. Ellis' direction, Kershaw threw more offspeed pitches.
"If I didn't," he said, "I'd be out of there. Fortunately, I got the double plays and threw enough good pitches."
Manager Don Mattingly said he wasn't really worried about Kershaw's early issues, especially as he saw Kershaw using fewer pitches per inning as the game progressed.
"He keeps coming after people," Mattingly said. "He's pretty good. He raises the bar pretty high pretty much every time out. He has a rough inning or two and we worry about him. He sets the bar high, but that's okay."
Kershaw had a lead by the fourth inning. Yasiel Puig led it off with what he thought was a home run to dead center, as he jogged to first, only to kick it in gear rounding the bag when the ball hit inches from the top of the wall. It went for a double.
"It's almost not fair to hit a ball that hard and not go out," Mattingly said.
Andre Ethier was called out on strikes and Ellis tapped out to the pitcher as Puig took third. Skip Schumaker was hit by a pitch on the foot for the second time, the ball appearing to Puig to be a wild pitch and he slid head-first into pitcher Henderson Alvarez covering home, only to be sent back to third base.
Juan Uribe walked to load the bases for Kershaw, who lined a sharp single to left field to score Puig. Crawford's sinking liner skipped off the glove of diving right fielder Giancarlo Stanton as Schumaker and Uribe scored with Kershaw stopped at third.
The Dodgers added to the lead with a two-run fifth on back-to-back two-out doubles to center by Ethier and Ellis and an RBI single by Schumaker. Adrian Gonzalez scored in the seventh when he doubled, took third on a passed ball and came home on Puig's sacrifice fly.
Kershaw did finish up strong, retiring the last five batters he faced and turning it over to Wilson after making 103 pitches.
"I've seen him a lot better," said Miami manager Mike Redmond. "He looked like his command was not there with his fastball. But at the same time, too, whenever we did get in a situation with a guy on, he executed his pitches, and was able to keep us at bay."
Ken Gurnick is a reporter for MLB.com. This story was not subject to the approval of Major League Baseball or its clubs.