Marlins' bats blanked in Alvarez's bumpy start
Marlins' bats blanked in Alvarez's bumpy start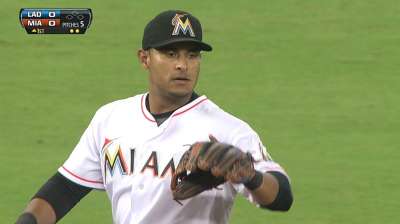 MIAMI -- What the Marlins learned the hard way in the series is there are no easy outs against the Dodgers. Even ace pitcher Clayton Kershaw did damage with his bat along with his left arm.
Kershaw turned in yet another gem on the mound, and he jumpstarted his team's offense with an RBI single that opened the door in the Dodgers' 6-0 win over the Marlins at Marlins Park.
"This whole series came down to execution," Marlins manager Mike Redmond said. "They made the plays and we didn't. It really just comes down to being able to make plays, and we weren't able to do that.
"Kershaw, I've seen him a lot better. He looked like his command was not there with his fastball. But at the same time, too, whenever we did get in a situation with a guy on, he executed his pitches and was able to keep us at bay."
After taking the first game of the series on Monday night, the Marlins dropped three straight to the hottest team in the league. But unlike the previous two nights, when the games were competitive, Miami didn't put up much of a threat in Thursday's matinee.
The Marlins were blanked for the 15th time, and Kershaw scattered five hits and struck out six in eight innings. With the game in hand, Brian Wilson assumed the mopup role, making his Dodgers debut in the ninth inning, striking out two while allowing a pinch-hit double to Greg Dobbs. But the veteran secured Los Angeles' 17th shutout victory.
It was Kershaw's two-out RBI single in the fourth inning that opened the scoring.
"When you're playing good teams, you've got to limit the amount of baserunners on in front of him," Redmond said. "Those guys have been around a while. They can swing the bat.
"Kershaw, he's not an out up there. He gives you a pretty good hack. You've got to get those guys in front of him out."
Henderson Alvarez endured his roughest start, giving up a season-high five earned runs, and he matched his lowest innings total of five.
The other time Alvarez threw five innings was in his first start, on July 4 at Atlanta after he was reinstated from the disabled list.
Giancarlo Stanton doubled off Kershaw with two outs in the third inning, extending the slugger's hitting streak to nine games.
The Marlins stranded runners in scoring position in each of the first three innings, at a time they were primed to break through against the left-hander.
"I was terrible the first couple of innings, I didn't have command," Kershaw said. "I didn't have great stuff today, I was a little fortunate to get those double play balls."
In the second inning, Miami had first-and-third with one out, but Kershaw retired Jeff Mathis on a fly ball to short right field, and Alvarez grounded out to third.
Miami has gone 17 straight innings without a run since Stanton's homer in the first inning on Wednesday.
"We just didn't get big hits," Mathis said. "I had a chance to drive a run in early and didn't get it done. It was a big part of the game. You've got to capitalize on those spots against a guy like that. We did a good job of getting guys on and getting them in scoring position. You've got to get those runs in. That's what it boils down to. You give [Kershaw] another life, another breath, and he does what he does."
Keeping with the theme of the first three games of the series, missed chances eventually caught up to them.
The Dodgers broke through in the fourth inning, and it was Yasiel Puig who started things off with a double high off the 13 1/2-foot wall in center field. The ball traveled more than 400 feet, and it missed leaving the park by inches.
Alvarez still was in position to work out of the jam, recording two quick outs. And with Puig on third, Miami caught a break on a breaking ball that bounced away from Mathis behind the plate. Puig dashed home, sliding head-first into a fallen Alvarez, who was covering the plate.
However, home-plate umpire Jim Reynolds ruled the pitch actually hit the foot of Skip Schumaker. So instead of a wild pitch and run scored, Puig was sent back to third, while Schumaker was awarded first base. Juan Uribe walked on four pitches, with the Marlins pitching around the veteran third baseman.
Kershaw helped himself with a single to left. Carl Crawford provided some cushion by lining a two-run double to right on which Stanton tried to make a shoestring catch.
"It's a good lineup," Mathis said. "They're swinging the bats good, and putting together good at-bats. You've got to do your best to try to keep them off you.
"Uribe has been swinging the bat good, too. You try to be careful with him. Kershaw is a good athlete. He can hit. He got a pitch in the zone. He didn't do too much with it, and he lined it into left for a hit."
The game got away from Alvarez an inning later, as the Dodgers added two more runs, again doing their damage with two outs.
Andre Ethier started a string of three consecutive two-out hits with a double to center. A.J. Ellis brought Ethier home with a double, and Schumaker added a run-scoring single, putting Miami in a five-run hole.
"We played with them this series, though," Christian Yelich said. "Today, I thought, was the only game we didn't really put up a fight. The first three games, we were in it until the end.
"I don't think we got blown out of the water this series. We didn't win it or split it, but I don't think anybody in this locker room doesn't think we couldn't play with those guys."
Joe Frisaro is a reporter for MLB.com. He writes a blog, called The Fish Pond. Follow him on Twitter @JoeFrisaro. This story was not subject to the approval of Major League Baseball or its clubs.