Stellar Latos helps Reds stave off D-backs
Stellar Latos helps Reds stave off D-backs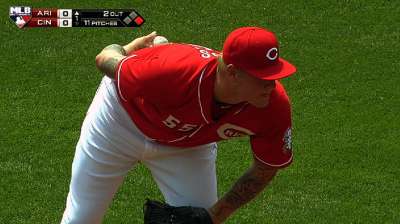 CINCINNATI -- The pressure was on for Reds starter Mat Latos on Thursday at Great American Ball Park.
With a bullpen that lost Jonathan Broxton to an injury the night before and had been extended all week, Latos entered his 26th start of the season knowing his team needed him to produce a long outing against the D-backs in the finale of an important series in the National League playoff picture.
Then he started vomiting.
In between getting sick, though, all Latos did was toss eight innings of five-hit, one-run ball, save the bullpen and pick up a 2-1 win, as Cincinnati took three of four from Arizona to extend its lead over the D-backs to seven games for the second NL Wild Card spot.
"Latos gave us everything we wanted," manager Dusty Baker said. "He was sick, he was down vomiting underneath. I told him to drink some water, and he told me he couldn't hold it. So I said, 'Hey, man. This is what champions are made of.'
"Sometimes Latos in the past was having trouble staying in those games, but he's growing before our eyes, and he did what aces do."
Latos, who went seven innings or more for the fourth straight outing, said he ate something Thursday morning that didn't sit right. As a result, he got sick before he started warming up, after the first inning and again before he took the mound for the fifth.
Baker didn't know Latos was under the weather until a security guard let him know during the game. Regardless, the Reds skipper couldn't afford to give the 25-year-old right-hander a break with just three relievers available in the bullpen.
"Wipe it off and get back to work," Baker told Latos.
So Latos did just that.
After allowing just one baserunner in the first three innings on a hit-by-pitch in the second at-bat of the game, Latos' early no-hit bid was broken up in the fourth inning by a leadoff single from Adam Eaton, who later tied the game when Aaron Hill's ground ball to third was too hot to handle for Todd Frazier.
It took Latos just six pitches to breeze through a 1-2-3 fifth, and although he gave up two singles in the sixth, he escaped before registering perfect seventh and eighth innings to end his day. He threw 102 pitches, 72 of which went for strikes, and didn't walk a batter while striking out six.
"I didn't necessarily have my best stuff today," Latos said. "My fastball was well below what I've normally been throwing. I was able to locate the ball down. [Catcher Devin] Mesoraco was always good today, emphasizing every inning -- 'Keep the ball down, keep the ball down, keep the ball down. We'll work on it and get ground-ball outs.' I didn't necessarily strike a lot of people out, but I was able to get outs on my own -- strikeouts -- when I needed it."
Despite Latos' gutsy effort, he left the game after the top of the eighth with the Reds stuck in a 1-1 tie. Thanks to some good fortune and mistakes by the D-backs, he walked out of the park with his 13th win of the year.
Shin-Soo Choo led off the eighth with a single, advanced to second on a poor pickoff throw from reliever Eury De La Rosa and moved to third on a sacrifice bunt from Frazier. He then scored the go-ahead run when Arizona's fourth wild pitch of the day skipped past catcher Wil Nieves.
The first three wild pitches came from starter Trevor Cahill -- who threw just 50 of his 97 offerings for strikes -- in the third inning, when the Reds scored their only other run of the day.
"The whole game, we gave them two runs on four wild pitches and an error," D-backs manager Kirk Gibson said. "We gave them five bases there."
With closer Aroldis Chapman among the Cincinnati relievers unavailable, Baker made the decision to give the ball to right-hander Sam LeCure for the ninth inning. LeCure, who said he was thankful for the opportunity, made sure it was the right choice by working around two singles for the first save of his career.
"I was trying to get myself to not think about it and just say, 'Hey man, it's three outs,'" said LeCure, who deflected the credit for the win to Latos. "I always thought one day I might have the opportunity to save a game, not necessarily be a closer. You try to prepare yourself the best you can, say, 'This is three outs, go out there, attack the strike zone and do what you've done in the eighth, seventh, sixth, third,' in my case."
Cincinnati, which was led by Choo's two singles, has won four of the last five after losing two in a row to the Brewers last weekend. As the Reds chase the first-place Pirates and second-place Cardinals in the National League Central, they prevented the D-backs from gaining any ground in the race for the second NL Wild Card spot.
"This was a huge series for us," LeCure said. "All of these games are super important. That's a real good ballclub. They fought big time. I think, honestly, it inspired me a little bit. I felt like last night they were playing like this was Game 162, and if they won it, they got in the playoffs. They really grind out some at-bats and don't go outside of their zone too much. That's a testament to the type of baseball that we can play, to go out and beat a team like that."
Jeremy Warnemuende is an associate reporter for MLB.com. This story was not subject to the approval of Major League Baseball or its clubs.