Cubs fall in extras after valiant comeback
Cubs fall in extras after valiant comeback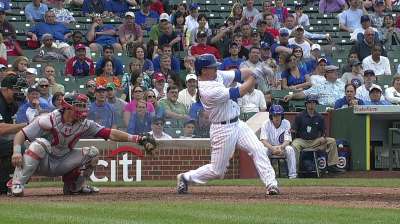 CHICAGO -- Donnie Murphy's home runs have been plentiful, and are suddenly also dramatic. But they are still not enough to save the Cubs from their Wrigley Field woes.
The surprising upstart infielder, who's given the club a remarkable power surge over the last two weeks or so, hit his most dramatic one Thursday, when he took Nationals ace Stephen Strasburg deep with two outs in the ninth inning to tie the game. But Chicago, now 3-16 in its last 19 home games, lost, 5-4, in the 13th.
"I've never been on a run like this in the big leagues," said Murphy, who's hit eight home runs since Aug. 6. "I'm still having fun with it. But at the same time, I wish we were winning more ballgames."
Strasburg, who was going for his second complete game in three starts, hung an 80-mph curveball to Murphy in the third pitch of his at-bat, and Murphy belted it into the left-field seats with a man on.
"Murphy, I mean, I had my way with him all day," Strasburg said of the hitter he struck out three times before the home run. "And then he runs into that curveball. It is what it is. ... It's tough luck."
After both teams failed to score in the first three extra innings, Cubs reliever Michael Bowden came in for the 13th. He gave up a leadoff double to Denard Span before Steve Lombardozzi moved him over with a sacrifice bunt and Chad Tracy brought him in with a slow roller down the first-base line. Drew Storen held the Cubs scoreless in the bottom of the inning for his third save of season.
Chicago is now 25-41 at home. Only one team -- the Astros, who own the Majors' worst record -- has fewer wins (19) on its own home turf.
The Cubs will now make their only trip out of Chicago -- a six-game West Coast swing -- before Sept. 9. They're in the midst of playing 19 of 25 at home, but only went 2-10 on this homestand.
"It seems like we play better on the road, so hopefully we can get away from here and start over and get a little run on the road," Murphy said.
Murphy, called on to help at third base in the wake of Luis Valbuena's injury, has been on fire. Only Miguel Cabrera and former Cub Alfonso Soriano have hit as many home runs in the last 17 days, and no Cub since at least 1921, according to STATS, Inc., has hit as many in his first 16 games with the team. Murphy had 22 homers in 685 plate appearances before the start of this series, in which he has hit four homers in 18 plate appearances.
"The beat goes on with Murphy," manager Dale Sveum said. "He's been, obviously, our big bright spot offensively. There's no telling where we'd be without him the last two weeks."
Strasburg was practically unhittable most of the afternoon, but he began to labor late. He allowed a leadoff homer to Brian Bogusevic on a fastball the Cubs left fielder ambushed to lead off the eighth, but that was only the Cubs' third hit. It cut Washington's lead to 4-1.
Cubs starter Travis Wood's problems at home persisted, as he remained winless since July 9, a week before he represented the Cubs in the All-Star Game. After giving up four runs on seven hits in 6 2/3 innings on Thursday, he is 1-4 with a 4.67 ERA since the break.
But after the Nats scored three runs in the first two innings -- on a Ryan Zimmerman solo homer in the first, and a Strasburg RBI single and Anthony Rendon sacrifice fly in the second -- Wood held them hitless until Lombardozzi hit his first home run of the season to lead off the seventh and make it 4-0. Wood needed 45 pitches to get through two innings, and 65 for the following 4 2/3.
"That homer by Lombardozzi there in the seventh kind of stings," Wood said. "Especially the way we battled back and ended up putting four there in the [eighth and] ninth, the game would have been over."
Chicago's ninth-inning rally began when Nate Schierholtz beat out a double-play ball and advanced to second on defensive indifference. Junior Lake singled, and Schierholtz scored on a throwing error by the shortstop Rendon, bringing Murphy to the plate.
The beginning of the game was delayed two hours by rain.
Joey Nowak is a reporter for MLB.com. Follow him on Twitter at @joeynowak. This story was not subject to the approval of Major League Baseball or its clubs.