Cubs mulling prospects as September callups
Cubs mulling prospects as September callups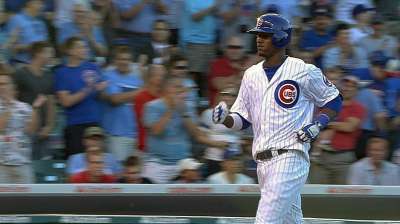 CHICAGO -- The Cubs have acknowledged that the next five weeks will be about getting their 40-man roster healthy and in a good position to build on into next season. More of that will come into focus as the team thinks about September callups and which of its top prospects -- if any -- could join the club.
Manager Dale Sveum said on Thursday that he has had some discussions with president of baseball operations Theo Epstein and general manager Jed Hoyer about which players may join the expanded roster, but it's "nothing concrete."
Ryan Sweeney and Luis Valbuena are expected back from injury around that same time, and Sveum said he doesn't see anybody coming up who isn't on the 40-man roster, except maybe an extra catcher.
"The [Brian] Bogusevics and Sweeneys, and obviously [Donnie Murphy's] doing a heck of a job," Sveum said of the outlook for current roster players. "And yesterday's topic was getting [Anthony] Rizzo and [Starlin] Castro to where they go into the winter feeling a heck of a lot better than they did two days ago."
That likely means top prospects Javier Baez (with Double-A Tennessee) and Albert Almora (Class A Kane County) are likely out of the picture. In 119 games between Daytona and Tennesee this season, Baez has hit .286 with 33 home runs and 100 RBIs.
"It's hard to do in [that many] games," Sveum said. "Remember, we get 20 more games than they do … to have a chance at 40 [home runs] in those leagues, in the Southern League and Daytona, it's not the easiest parks and leagues to hit home runs in. It's impressive, and the 100 RBIs is another impressive stat."
Does that mean he could come up in a few weeks?
"The numbers, sometimes guys do put you in situations where you do start thinking about it, but those are obviously questions and stuff that have to be dealt with with Jed and Theo," Sveum said. "But I don't see that happening."
No. 3 prospect Jorge Soler and No. 5 prospect Mike Olt are both on the 40-man roster.
Joey Nowak is a reporter for MLB.com. Follow him on Twitter at @joeynowak. This story was not subject to the approval of Major League Baseball or its clubs.