Lombardozzi impressing with play, smarts
Lombardozzi impressing with play, smarts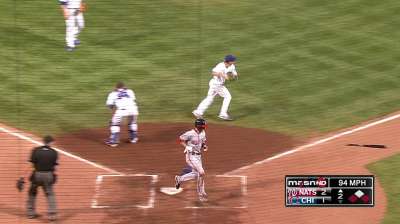 CHICAGO -- Second baseman Steve Lombardozzi has been impressing Nationals manager Davey Johnson with his play as of late.
Lombardozzi -- who is hitting .254 with 12 doubles and 16 RBIs in 228 at-bats this season entering Thursday -- went 4-for-8 in his last two starts. He also made a heads-up play by breaking for the plate on Ross Ohlendorf's second-inning bunt in Wednesday's 11-6 win over the Cubs.
"He's a ballplayer," Johnson said. "He's 100 percent in, and the play that went unnoticed was his great read on the third-strike bunt by Ohlendorf, and he made that easy.
"It was not that far in front of home plate, and he came right with the third baseman and made it look like it was a thought-out play. But it was all his read, so he's a smart player."
Lombardozzi went 2-for-5 with a double and his first home run of the season in the Nationals' 5-4 win over the Cubs in 13 innings on Thursday.
Manny Randhawa is an associate reporter for MLB.com. This story was not subject to the approval of Major League Baseball or its clubs.