Miley serves as Parra's glove whisperer
Miley serves as Parra's glove whisperer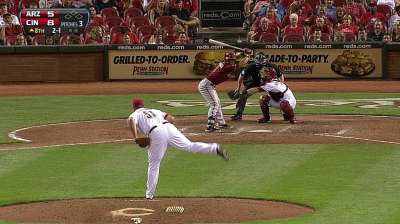 CINCINNATI -- D-backs outfielder Gerardo Parra has one Gold Glove in his trophy case and could very well pick up a second this year.
So one would expect Parra to be an expert when it comes to breaking in a new glove, but that is not the case.
"Wade does my gloves," Parra said.
Wait, Wade Miley? The pitcher?
"He likes to break in my gloves," Parra said. "I tell him what I like and he does it. I like his attitude, everything with him is positive. Everything he does is positive."
Parra likes to have the thumb of his glove flared out a bit and a deep pocket. He explained that to Miley last year and was pleased with the result. Now, apparently Parra does not have to ask Miley any more.
"When he sees I have a new glove, he goes and takes it," Parra said.
"That's really false," Miley said before yelling across the clubhouse at Parra. "'G! That's a lie.'"
That may be in dispute, but what is not is that sometimes Miley hangs onto the gloves a little longer than maybe necessary.
"It only takes him two or three days," Parra said. "But he never brings it back, I have to go get them from him."
Parra uses one glove per season, with a backup ready just in case. If he plays winter ball following the season, he'll use the same glove he used during the regular season. But when that's over, that's it for the glove; he puts it in his living room at home where all of his other gloves are, including the one he used to win the Gold Glove in 2011.
Miley said he has no secret to breaking in gloves. He just takes it into the batting cage located behind the D-backs' dugout and plays catch with the pitching machine, nicknamed "Iron Mike."
"I just go in there and start letting it sling baseballs at me, and I just catch them," Miley said. "I do stand to the side just to be safe, because you never know what you're getting out of 'Iron Mike' sometimes."
Steve Gilbert is a reporter for MLB.com. Read his blog, Inside the D-backs, and follow him on Twitter @SteveGilbertMLB. This story was not subject to the approval of Major League Baseball or its clubs.