Nats win marathon game after Strasburg blows lead
Nats win marathon game after Strasburg blows lead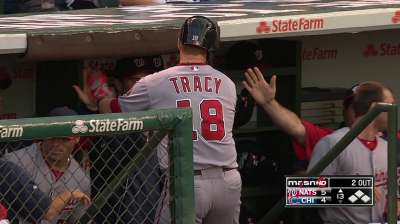 CHICAGO -- For the second straight game the Nationals blew a lead, and for the second straight game they found a way to win anyway.
Stephen Strasburg was dominant for eight innings but gave up a game-tying, two-run homer to Donnie Murphy with two outs in the ninth before the Nationals answered with a run in the 13th for a 5-4 win over the Cubs at Wrigley Field on Thursday.
Denard Span led off the 13th with a double, moved to third on a sacrifice bunt by Steve Lombardozzi, and scored on a slow tapper up the first-base line by pinch-hitter Chad Tracy.
"I just tried to put something in play right there," Tracy said. "[I] was basically just trying to get some contact."
Tracy's contact was just enough given the speed of the man at third base.
"It's a good thing we [had] a track star down there at third base," Nationals manager Davey Johnson said of Span, who sprinted home with the go-ahead run.
The game-tying homer by Murphy came on a 1-1 curveball from Strasburg, a pitch that had been confounding Cubs hitters all afternoon. In his three previous at-bats against Strasburg, Murphy struck out three times.
"Murphy, I had my way with him all day," Strasburg said. "And then he runs into that curveball. … Obviously it's the location [that was the problem]. A curveball, once it leaves your hands you really have no control over it. It just didn't have the same kind of bite as it had early on in the game."
It was Murphy's eighth home run since Aug. 6.
"I've never been on a run like this in the big leagues," he said. "I'm still having fun with it."
Through the first eight innings, Strasburg was nearly unhittable. As he walked to the mound in the ninth, looking for his second career complete game in his last three starts, he had given up one run on four hits, walking two and striking out eight.
But in the ninth, he gave up a one-out single to Dioner Navarro. Nate Schierholtz followed with a ground ball to second, and the Nationals could only get the lead runner.
Schierholtz took second on defensive indifference and scored on an infield single by Junior Lake and a throwing error by Anthony Rendon.
The ball that Lake hit was in the hole between third and short, where Rendon back-handed it, but he slipped on the throw, enabling Lake to reach and Schierholtz to score.
"You feel terrible," Rendon said of the play, which could have ended the game. "Obviously I had a little slip over there, but that's no excuse. I still should have made that play."
That kept the game alive for Murphy's heroics.
Despite the ninth-inning collapse, Johnson said he felt Strasburg turned in a solid performance.
"Stras pitched a heck of a ballgame," he said. "You hate to see him get beat with a curveball he leaves out over the plate, and [Murphy's been] a little hot hitter in this series. But he pitched a great game. He still had a low pitch count. He was still throwing the ball very good. … What a great effort."
Strasburg said he's choosing to look at the positives from the game.
"I can look at it two ways," he said. "I can look at the last inning or I can look at all the other innings where I was pitching really well, so I'm going to focus on the positive."
The Nationals staked Strasburg to an early lead against Cubs starter Travis Wood after the start of the game was delayed by rain for two hours.
Ryan Zimmerman hit a solo homer to right in the first, and in the second, Strasburg helped his own cause with an RBI single -- one of two singles for him on the day -- and two batters later Rendon hit a sacrifice fly to make it 3-0.
Lombardozzi led off the seventh with his first homer of the year for the Nationals' fourth run.
The Cubs' lone run until the ninth came on Brian Bogusevic's home run off Strasburg to lead off the eighth.
After getting 4 2/3 innings out of his bullpen in Wednesday's win, Johnson had to use Rafael Soriano, Tyler Clippard, Craig Stammen and Drew Storen over the final 4 1/3 innings on Thursday. The relievers came through -- preserving the tie to give the Nationals a chance to win -- but their innings could make things tough in the next series.
"We need an off-day tomorrow," Johnson said. "I'm out of pitching. … [This game] stressed our bullpen out."
Stammen got the win after pitching two hitless innings in the 11th and 12th.
The Nationals won't get an off-day Friday, as they head to Kansas City to open a three-game set against the Royals. But with Thursday's victory, they did keep pace with the Reds, who won earlier in the day, remaining 9 1/2 games behind Cincinnati for the second National League Wild Card spot.
Johnson said that while it wasn't pretty, he'll take a win any way he can get it.
"A win is a win," he said. "We'll take it and it'll make the flight to Kansas City a lot easier."
Manny Randhawa is an associate reporter for MLB.com. This story was not subject to the approval of Major League Baseball or its clubs.