Eovaldi flashing signs of progress, potential
Eovaldi flashing signs of progress, potential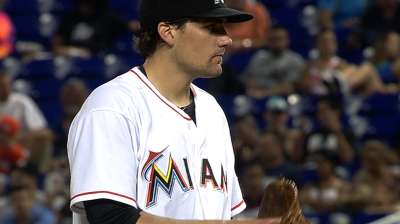 MIAMI -- Don't let the numbers fool you when assessing the progress being made by Nathan Eovaldi.
Despite a 2-4 record and 3.82 ERA, the Marlins feel the 23-year-old has the makings of a future star.
Eovaldi has gone seven starts without a win since he beat the Nationals on July 12. And on Wednesday night, he was on the wrong end of a 4-1 loss to the Dodgers.
Still, the drought is more of a reflection of lack of support offensively.
In terms of pure stuff and the ceiling to improve, Eovaldi promises to have a bright future.
In seven innings against the Dodgers, Eovaldi allowed three runs, with two earned. He was victimized by three errors, one of which he committed on a pickoff attempt that cost a run. But his fastball was lively, reaching 100 mph twice against Adrian Gonzalez in the fifth inning. He ended up getting the All-Star first baseman looking at a 100 mph heater.
Miami acquired Eovaldi last July from the Dodgers for Hanley Ramirez.
Ramirez had an RBI double off Eovaldi and he also struck out and grounded out in three at-bats.
"Eovaldi, this guy is going to be a monster," Marlins manager Mike Redmond said. "This kid has so much upside. He's just a work in progress. He's going to be a dominating pitcher in this league for many years to come. He still has a lot of room to grow. There are areas of his game, and his pitching that can totally improve -- like his off-speed pitches, and commanding those pitches, and continuing to be able to command his fastball. This guy, his upside is off the charts for him."
Dodgers pitching coach Rick Honeycutt worked with Eovaldi in Los Angeles, and he remains a fan of the hard-throwing right-hander.
"I still feel like he's one of ours to a point," Honeycutt said. "I'm happy for him to get a chance to pitch every fifth day. You see the development. You see him progress. He has a great arm. He's a great young man with a great work ethic. When he starts to get a curveball or change over, it's a lot like [Clayton Kershaw] when he came up. Everything was hard. He needs to slow the speed of a pitch. The other thing is to see him battle. We beat him, but I'm happy to see him healthy and progressing. He has a chance to be special. Their whole staff is impressive."
Joe Frisaro is a reporter for MLB.com. He writes a blog, called The Fish Pond. Follow him on Twitter Share This