Frazier's hit garners tip of the hat from Ziegler
Frazier's hit garners tip of the hat from Ziegler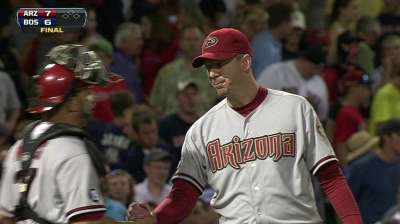 CINCINNATI -- Brad Ziegler could only shake his head.
Ziegler threw a slider that backed up a bit and ran in on right-handed hitter Todd Frazier in the eighth inning Wednesday night.
Frazier looked fooled on the pitch -- his body was moving back away from it -- but somehow he was able to get his bat on it and drop it into center for an RBI single.
"I felt like I made a pretty good pitch and, obviously, fooled him, but that's part of why he's a big league hitter," Ziegler said. "To still have the hand-eye coordination to do that, you just kind of tip your hat -- there's nothing you can do."
Not even Frazier could explain how he exactly did it.
"I don't know what I was doing," he said. "It was just confusing. I knew he had a nasty slider. It started like two feet behind me. I'm like, 'It's going to come back in.' I kind of jumped out of the way. I don't know why my body just does its own thing. I said I had to go down with a fight, just put the barrel on it. Away it went. It was just one of those silly swings. It felt pretty good afterwards."
Steve Gilbert is a reporter for MLB.com. Read his blog, Inside the D-backs, and follow him on Twitter @SteveGilbertMLB. This story was not subject to the approval of Major League Baseball or its clubs.