White Sox run streak to six with Gillaspie's HR in 12th
White Sox run streak to six with Gillaspie's HR in 12th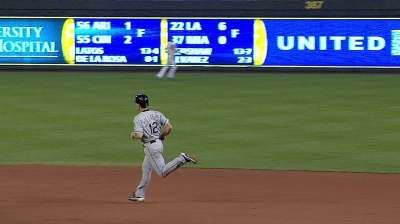 KANSAS CITY -- Addison Reed may be going on fumes these days, but he still has enough in the tank to guide the White Sox to the winner's circle.
Thanks to Conor Gillaspie's go-ahead homer in the 12th inning Thursday night, Reed got the opportunity to save a sixth consecutive game, a feat that hadn't been accomplished since Eric Gagne did it for the Dodgers in 2003. Reed had some shaky moments, but came through again to preserve a 4-3 victory over the Royals as Chicago ended its road trip in high style.
All of a sudden, the White Sox are delivering in the clutch and catching some breaks along the way. And when it's time to seal the deal, Reed is always delighted to get the work.
"I knew I had enough to get through another night," Reed said.
Just barely, though. After Gillaspie put the White Sox ahead with his homer off Luke Hochevar, Reed started the Royals' 12th by walking Billy Butler. Jarrod Dyson came on as a punch-runner and stole second, but the Royals elected not to sacrifice with David Lough. Reed struck out Lough, but then Chris Getz hit a scorching line drive that went right at shortstop Alexei Ramirez for the second out.
"I didn't have time to think about what might happen," Reed said. "By the time I got my head around, the ball was in Alexei's glove. I was just relieved, but I knew I had to get the next guy, too. Baseball is funny. I'm sure there will be a couple of bloopers that fall in against me because of that [Getz lineout] right there."
Reed got the final out on Emilio Bonafacio's fly ball to center, and the White Sox (52-74) headed home with a six-game winning streak and having won eight of 10.
"It would have been nice to see this earlier in the year, but it's just great to win games at this level anytime," Gillaspie said. "That's what we're all here for."
The White Sox battled back from a 3-0 deficit to force extra innings. They managed to wiggle out of a two-on, nobody-out jam in the 11th when Jake Petricka made his Major League debut and induced a double-play grounder from Salvador Perez. That set the stage for Gillaspie to become a hero in the 12th.
After Hochevar had rolled through the 11th inning with two strikeouts and a groundout, Gillaspie opened the 12th with a drive that cleared the right-field wall and bounced back onto the field. Gillaspie initially went into a home-run trot approaching second base, but then sped up as third-base coach Joe McEwing was furiously waving him around.
"I kind of stopped running at second, because I didn't see anybody going after the ball," Gillaspie said. "Then I looked at Joe and he was waving me. You never know."
White Sox starter Jose Quintana had one rough inning. The Royals scored three in the fifth after the first four hitters reached. But Chicago rallied against Kansas City ace James Shields with two runs in the sixth, followed by Josh Phegley's RBI double in the seventh.
It was a battle of the bullpens thereafter and the White Sox had the upper hand. Perhaps the most uplifting development was Petricka's ability to come through when thrown into an instant pressure-cooker.
"It really takes away any idea of overthinking the situation," Petricka said. "You don't have time to think when the game-winning run is at second. You just have to throw strikes." The Royals (64-62) have dropped five in a row, and their playoff hopes are flickering.
"This one was really frustrating," Royals manager Ned Yost said.
Yost is feeling these days like White Sox manager Robin Ventura felt earlier in the season as Chicago continued to spin its wheels. The revamped White Sox just hope to finish strong and lay some groundwork for what's to come in 2014.
"It's good to be able to hang in there and win late," Ventura said.
Robert Falkoff is a contributor to MLB.com. This story was not subject to the approval of Major League Baseball or its clubs.