Jackson's blast brings Tigers back, but Twins earn win
Jackson's blast brings Tigers back, but Twins earn win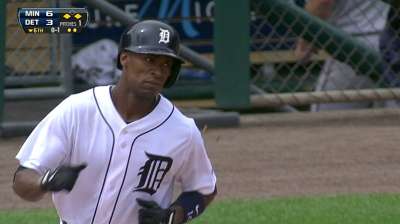 DETROIT -- Justin Verlander has been dominant against the Twins for the past three years. The Twins finally struck back, scoring six runs against the Tigers' ace. While the Tigers were able to tie the game following a four-run deficit, they ultimately fell short in a 7-6 loss on Thursday afternoon at Comerica Park.
Verlander was 7-0 with a 1.45 ERA in his last seven starts against the Twins and 9-0 in his last 10 starts against them before allowing six runs on 10 hits in seven innings Thursday. It was the most runs he's given up in a start since the Rangers scored eight against him in 2 2/3 innings on May 16.
"He just didn't have very good stuff today," Tigers manager Jim Leyland said. "When you score six runs with him pitching, you think you're going to win. But today he just didn't have good stuff."
After the Twins scored a run in the first inning on Chris Herrmann's RBI double, the Tigers responded with two runs of their own in the third. To lead off the frame, Bryan Holaday drilled a solo home run to left field, his first career homer and RBI.
"We were thrilled for him," Leyland said. "He's such a good kid. To get his first, that had to feel good. He had a big smile. There's not enough money to pay for that smile he had on his face when he came into the dugout, I can tell you that."
Holaday was given the customary silent treatment by the team in the dugout following his home run trot. Next, Austin Jackson singled and moved to second on a sacrifice bunt before scoring on a single by Prince Fielder to give Detroit a 2-1 lead.
Minnesota tied the game in the fourth on a check-swing RBI single by ex-Tigers outfielder Wilkin Ramirez. In the fifth, Ryan Doumit gave the Twins a 5-2 lead with a three-run homer to right-center. Minnesota added another run in the sixth inning on an RBI double by Brian Dozier.
"One really good swing on the ball," Verlander said. "Other than that, Ramirez was kind of like, 'You've got to be kidding me.' I don't even think a first-base umpire would have called that a check swing, but it's just one of those days."
Verlander hasn't pitched to his usual dominance this season, posting a 12-9 record and 3.68 ERA. However, he had a 2.74 ERA in three starts in August before a "frustrating" outing on Thursday.
"It's been quite the grind for me all year, a real battle," Verlander said. "All in all, you look at the numbers and it could be a whole lot worse. I wouldn't call it good, I'd call it frustrating. When you're able to go out there and give your team a chance to win, I guess that's a positive you can take away from it."
With two outs in the bottom of the sixth, Holaday hit an RBI infield single to short before the Twins replaced starter Andrew Albers with reliever Josh Roenicke. With two runners on, Jackson pummeled a curveball over the left-field wall for a three-run homer to tie the game at 6.
"That was impressive," Verlander said. "A lot of teams could have let down right there, but these guys battled back and got us right back in the ballgame. It's unfortunate that we lost, but we showed a lot of resiliency and might today."
In the eighth inning against reliever Drew Smyly, Herrmann hit his second RBI double that dropped in front of Jackson in center field, giving Minnesota a 7-6 advantage.
"It was a breaking ball for a strike," Smyly said. "Probably could be lower, but they put it in play and it kind of knuckled off the bat. It was a tough play. It's baseball, sometimes it goes the other team's way."
"I know he hit it pretty good, so I was going to make the play in the gap," Jackson said. "The ball just started taking off toward right field more and just down real hard. I think me and [right fielder] Torii [Hunter] both thought it was a ball that we'd be able to get to."
The Tigers threatened in the ninth once Miguel Cabrera, who bloodied his pants after scraping his knee diving for a ball in the fourth inning, drew a one-out walk. Fielder followed with a single before Victor Martinez grounded into a game-ending double play.
"It was another crazy game here," Twins manager Ron Gardenhire said. "With that offense, it can come up quick on you. It looked like we had a pretty comfortable lead here. We had two outs and they had a couple of balls roll through, and next thing you know, a three-run homer and it's a tie game again. Fortunately for us, Herrmann came up with a big hit for us."
Bobby Nightengale is an associate reporter for MLB.com. This story was not subject to the approval of Major League Baseball or its clubs.