Yanks sweep Jays to gain in playoff chase
Yanks sweep Jays to gain in playoff chase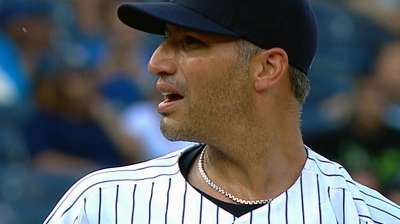 NEW YORK -- Andy Pettitte knew the Yankees were going to make a run. It was just a matter of when.
After their 5-3 victory over the Blue Jays on Thursday, it's clear that run is happening right now. The victory capped off a four-game sweep of Toronto -- the Yankees' first series sweep since July 1-4 against the Twins -- improved them to 11-3 over their past 14 games and brought them within 3 1/2 games of the second American League Wild Card spot heading into a critical road series against the Rays.
"We're playing well, the guys are swinging the bats well, and they're feeling good about themselves," Pettitte said. "It's not too late."
Pettitte's strong effort on the mound after a three-hour and thirty-two minute rain delay keyed the Yankees' victory. The left hander threw six innings, allowing just one run on four hits and three walks.
The lone blemish on Pettitte's line was a solo home run he gave up to Blue Jays catcher J.P. Arencibia in the fifth inning.
"The job that Andy did was important. We needed it," manager Joe Girardi said. "We needed to get at least six innings out of him, and we were hoping and he was able to do that. He pitched very well."
The Yankees tied the game in the bottom of the fifth on Curtis Granderson's solo home run to right off J.A. Happ. The Blue Jays' starter was the pitcher whose fastball broke Granderson's arm in a Feb. 24 Spring Training game and cost him the first six weeks of the season.
"He had some misfortunate injuries over this season, and I had some this year," Granderson said. "I'm just happy to see us both back out on the field getting a chance to compete and do what we love."
The Yankees' second run of the game came on a disputed fielder's choice off the bat of designated hitter Vernon Wells. Blue Jays center fielder Rajai Davis looked like he caught Wells' bases-loaded flare, then threw the ball in to second baseman Munenori Kawasaki, who tagged both Chris Stewart and Ichiro Suzuki, who were both near the second-base bag.
After a discussion -- and an argument with and subsequent ejection of Blue Jays manager John Gibbons -- the umpires determined that Davis trapped the ball in center, so Wells was safe at first and Ichiro was safe at second while Stewart was out advancing to third. Eduardo Nunez scored on the play, giving the Yankees a 2-1 lead after five. Nunez would have scored regardless, since he was tagging on the play and crossed home plate before Stewart was tagged out.
After the game, crew chief Ted Barrett said the replay showed it "probably would have been ruled a catch," if they could have reviewed it.
"That's probably the most difficult things to figure out in a game," Girardi said. "It's difficult to see, the runners don't know what to do, there's not a call made right away … It's just a tough play all around."
"I'm running to third and I'm looking at Rob Thompson, the third-base coach, and he couldn't see the umpire, whether he called it safe or out," Stewart said. "Everybody's kind of looking at each other trying to figure out what happened, and I got tagged out. … It was just a weird play."
That play wouldn't end up deciding the game, though. The Yankees got some insurance in the sixth, when third baseman Alex Rodriguez and Granderson worked back-to-back walks, chasing Happ from the game. First baseman Mark Reynolds walked to load the bases, and Nunez drove in two runs with a single to center. Reynolds came around to score on Stewart's groundout to third, giving the Yankees a four-run cushion with three innings to play.
Happ struggled after throwing three perfect frames to start the game, pitching just 5 1/3 innings and allowing four runs on three hits and five walks.
"Yankee Stadium is tough," said Gibbons, whose team has lost all 10 games it played in the Bronx this season. "The sad part is that we were in every game, basically all year that's been the way. We just couldn't put them away with a lead, our home runs have been solo jobs."
The Blue Jays got two runs back off Yankees reliever Shawn Kelley in the seventh inning, but Boone Logan came on in relief and struck out pinch-hitter Adam Lind to end the threat.
With closer Mariano Rivera getting the night off after pitching three times in the past two days, Yankees reliever David Robertson threw a perfect ninth inning to earn the save.
The Yankees have now won five straight games and seven of their last eight against AL East opponents, sending the them into a critical series against a Rays team they're chasing in the Wild Card standings on a high note.
"We feel pretty good, but we got to keep getting better," Rodriguez said. "We've got a lot of work to do. Every game is precious, and we just want to keep taking small bites at it."
Josh Vitale is an associate reporter for MLB.com. This story was not subject to the approval of Major League Baseball or its clubs.