Happ, Blue Jays can't solve Yanks in series finale
Happ, Blue Jays can't solve Yanks in series finale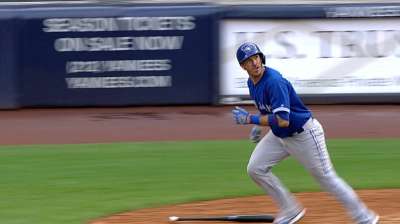 NEW YORK -- The Blue Jays don't have to play at Yankee Stadium again this season, and that can only be taken as good news for a team that hasn't won there all year.
The city of New York has been a nightmare for the Blue Jays this season. Despite being in almost every game, the club seems to have continuously let a lead slip away late en route to frustrating loss after frustrating loss.
The struggles went from bad to worse on Thursday afternoon when the Blue Jays were swept out of town for the third time this season after J.A. Happ surrendered four runs in a 5-3 loss which was delayed three hours and thirty-two minutes because of rain.
"It's hard, where you don't win a game in a place, but Yankee Stadium is tough," Blue Jays manager John Gibbons said. "The sad part is that we were in every game, basically all year that's been the way. We just couldn't put them away with a lead, our home runs have been solo jobs.
"They've been close games and we couldn't just hold them down. We were in every game, so we were competing and feel good, but this place has been tough on us."
Toronto went 0-10 over the course of three trips to Yankee Stadium this year. The issues in the Big Apple aren't exactly new, either, as the Blue Jays have lost 13 consecutive games in New York and 22 of 24 dating back to the 2011 season.
The Blue Jays picked up one victory in three games at home vs. the Yankees earlier this season but have since lost 10 straight. The 10 consecutive losses are the most Toronto's had against any team in a single season since the club lost 11 in a row to the Red Sox in 2002.
The skid also marks the longest losing streak to New York since the Blue Jays dropped 13 straight from May 10, 1995 through June 6, 1996. There are still six games remaining vs. the Yankees this season, but from the club's perspective, at least they won't take place at Yankee Stadium, where there has been a series of heartbreaking losses.
"It's unfortunate, we'd like to win the close ones, we haven't yet," Blue Jays outfielder Rajai Davis said. "We still have some more season to play, so we have to keep moving."
Those 10 losses in New York have all occurred despite the fact Toronto scored first in all but three of those games. That was the case again Thursday afternoon, when catcher J.P. Arencibia led off the fifth inning with a solo home run to left field. It was Arencibia's third home run since the All-Star break and his third career shot in New York.
Just like all of the other games, though, the lead proved to be short lived. Happ opened the bottom half of the fifth by allowing a solo shot to deep right field off the bat of Curtis Granderson. That marked the fourth home run of the outfielder's season and it came on 1-1 pitch.
Happ then loaded the bases with one out when Vernon Wells hit a sharp liner to center field. Rajai Davis appeared to make the catch, but first-base umpire Scott Barry ruled it a trapped ball and Eduardo Nunez easily scored to give New York a one-run lead.
Gibbons came out to argue the call, and was subsequently ejected, as was pitcher Mark Buehrle for arguing from the Toronto dugout. It marked the beginning of the end for the Blue Jays.
The trouble continued in the sixth when Happ walked two of the first three batters he faced. Happ was then lifted from the game, but right-hander Brad Lincoln went on to surrender a two-run single as the Blue Jays lost control of the contest.
Happ was charged with four runs on three hits and five walks while striking out four. It was the most walks Happ has surrendered since he issued seven free passes in a rough start against the Red Sox on May 2. He has now allowed 13 runs in 21 2/3 innings of work since returning from a lengthy stint on the disabled list after sustaining a fractured skull due to a batted ball earlier this year.
"I've been feeling good since coming back, but [today] I felt like I was executing pitches, and then I started missing a little bit," Happ said. "I would have liked to have stayed in there, but that's obviously not my call, either."
The Blue Jays rallied with a pair of runs in the top of the seventh inning on an RBI single by Munenori Kawasaki and RBI grounder Edwin Encarnacion, but it was far too little, too late. Toronto has now scored three runs or fewer in all but one of its past five games. Over the club's past 12 contests, the Blue Jays have scored more than four just once.
On Thursday, it was New York left-hander Andy Pettitte who limited the damage. He was charged with just the one run on four hits over six strong innings.
"I feel like now, at least, the pitches that I'm throwing are doing what they're supposed to," Pettitte said. "That's obviously very important, especially for someone like myself, who is relying on location."
Toronto now finds itself a season-high 14 games below .500 and has lost five straight. Since a season-high 11-game winning streak from June 11- 23, the Blue Jays have posted a 19-35 record (.352), which is the second lowest winning percentage in the American League in that span.
Gregor Chisholm is a reporter for MLB.com. Read his blog, North of the Border, and follow him on Twitter @gregorMLB. This story was not subject to the approval of Major League Baseball or its clubs.