Hanley tries to drop liner, turn double play
Hanley tries to drop liner, turn double play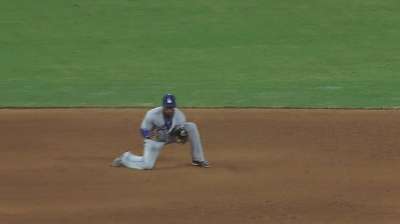 MIAMI -- Hanley Ramirez, the hitting star for the Dodgers in Wednesday night's 4-1 win, tried to get cute in the field, but umpires would have none of it.
In the bottom of the seventh inning, with the Dodgers leading, 3-1, the Marlins had a leadoff single by Ed Lucas and Adeiny Hechavarria hit a low line drive at Ramirez.
The Dodgers shortstop bent at the knees, caught the ball, then intentionally dropped it, picked it up and flipped to second baseman Mark Ellis in an attempt to start a double play as Lucas had to freeze at first base and Hechavarria had stopped because he thought the ball was caught.
But second-base umpire and crew chief John Hirschbeck immediately stopped play, ruling the batter out and allowing Lucas to remain at first base, where he was stranded when Jake Marisnick lined out to left field and Koyie Hill grounded out.
Baseball Rule 6.05(l) states that a batter is out when: "An infielder intentionally drops a fair fly ball or line drive, with first, first and second, first and third, or first, second and third base occupied before two are out. The ball is dead and runner or runners shall return to their original base or bases."
Against his former team, Ramirez went 2-for-4 with an RBI, two runs scored and a stolen base.
Ken Gurnick is a reporter for MLB.com. This story was not subject to the approval of Major League Baseball or its clubs.