Puig shakes off questions about limp
Puig shakes off questions about limp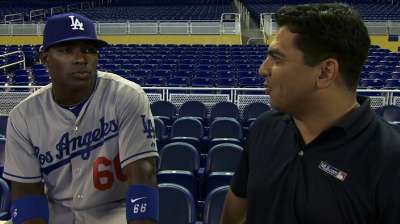 MIAMI -- Yasiel Puig not only has a flair for the dramatic, he has a flair for drama.
He limped during three at-bats Wednesday night, and manager Don Mattingly confirmed that Puig had "something behind his calf area." But when reporters asked Puig after Wednesday night's game about his leg, interpreter Roman Barinas relayed this response:
"No. He doesn't have anything bothering him."
Puig hit the first-base bag hard with his right foot after hitting infield grounders his first two at-bats and pulled up gimpy both times, but remained in the game. He tapped back to the pitcher in his third at-bat and jogged to first base.
"We'll see tomorrow how it turns out," Mattingly said of Puig's leg.
At least Puig was in the starting lineup Wednesday night. On Tuesday, Puig was left out of the lineup because of an 0-for-11 slump. Then he showed up late to the ballpark and was fined. Then, after entering the game in a double-switch, Puig hit a tiebreaking home run.
Ken Gurnick is a reporter for MLB.com. This story was not subject to the approval of Major League Baseball or its clubs.