Greinke dazzles in Miami for latest Dodgers gem
Greinke dazzles in Miami for latest Dodgers gem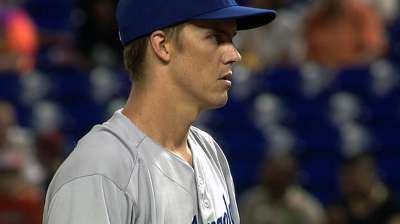 MIAMI -- After watching Zack Greinke's latest gem, Rick Honeycutt said the Dodgers pitching staff is the best he's had in eight seasons as pitching coach.
"I would think so," Honeycutt said after Greinke allowed one run in eight innings with seven strikeouts and no walks in the Dodgers' 4-1 win over the Marlins.
"It's by far the deepest starting staff. At the top end, we've never had a one-two combo and [Hyun-Jin] Ryu has been, for me, beyond anybody's expectations. Ricky [Nolasco] has been a great addition, a workhorse, and Cappy [Chris Capuano], when he's on, he can be great."
In Clayton Kershaw (1.80), Greinke (2.91) and Ryu (2.95), the Dodgers have three starters with ERAs under 3.00. Each one has a dozen wins. Los Angeles starters are 16-2 in the last 24 games.
The Dodgers' offense was led by Hanley Ramirez, who had a pair of hits, scored twice and stole a base. His RBI double was the key hit in a three-run fourth inning against the pitcher the Dodgers traded to get Ramirez, Nathan Eovaldi.
"I left the ball right down the middle and [Ramirez] took it in the gap," said Eovaldi. "Their whole lineup is a threat. You've got to stay focused, one through nine."
Greinke allowed a first-inning homer to Giancarlo Stanton, but he knew what to do with the lead once his teammates provided it. Greinke is 12-3 overall and 9-1 in his last 12 starts. He's allowed 10 runs in his last nine starts, his ERA falling from 4.30 to 2.91.
After being sidelined for a month with a broken collarbone delivered by Carlos Quentin in the April 11 brawl, then rushing back after one rehab start, Greinke credits his season turnaround to two keys -- mechanical adjustments made at the suggestion of Honeycutt after a July 3 loss in Colorado (when he walked seven in five innings) and pitch calling by catcher A.J. Ellis.
Greinke said Honeycutt first suggested the change during Spring Training, but the pitcher rejected it because he had been successful throughout his career without focusing on staying on line with home plate or changing arm slots.
"It seemed like he had gotten away from himself," Honeycutt said. "The game in Colorado reminded me of [Cal] Ripken, changing his stance every at-bat. Zack was trying different arm slots to throw different pitches. He just got back to where he's always been."
But the start in Colorado was so frustrating, Greinke said, he was finally willing to try.
"Since the change, I've been executing better and I've been throwing harder with a better changeup than at any time in my career," he said. "I'm more on line. Honey helped with the mechanics. A.J. is probably the best pitch caller, although Jason Kendall is up there. A.J. knows the other team probably better than anyone I've ever played with. For the most part, I don't shake him off. Give him credit for pitch calling. He knows his stuff."
Honeycutt said he senses that the starting pitchers have an unspoken competition.
"I think they do," he said. "They wouldn't be where they are without a competitive nature. There is a sense of pride. Kershaw sets the tone. Zack wants to go deeper in the game."
Greinke, though, said competition would be futile.
"Kershaw is on such another level, if you try to do better than him, you'll get your feelings hurt," the 2009 AL Cy Young Award winner said of Kershaw, who won the NL Cy Young Award in '11. "I just try to be consistent and make my pitches. I've had some breaks."
Greinke said he doesn't feel like he's been pitching better this year than he did in 2009.
"That year I was really nasty," he said. "I've had some breaks and I've made some quality pitches at the same time. Maybe I've been pitching better than I realize. I haven't made a ton of mistakes."
Manager Don Mattingly said he appreciated watching Greinke regroup after allowing five hits over the first four innings, then allowing only one hit over the next four.
"You see him make a quick adjustment, throw more curveballs and slow it down and yo-yo them," he said. "It was kind of cool to watch. All of a sudden you see him turn the page."
Mattingly said he agreed with Honeycutt, that the competitive nature of the pitchers could elevate the game of each.
"I like the fact they want to compete," the manager said. "It's like with [Yasiel] Puig tearing it up, Hanley's like, 'Pay attention, I can hit a little bit.' Guys show what they can do."
Ken Gurnick is a reporter for MLB.com. This story was not subject to the approval of Major League Baseball or its clubs.