Young walks off against Rockies
Young walks off against Rockies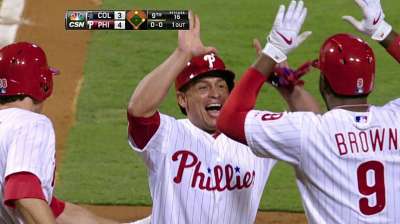 PHILADELPHIA -- The cheers of Choooooch echoed through Citizens Bank Park in the ninth inning Wednesday night.
Carlos Ruiz whacked a one-out double into the left-field corner to score the tying run in a 4-3 victory over the Rockies. He slid into second base, popped up and clapped his hands to celebrate a big hit in a game played for only pride at this point. Two batters later, Ruiz scored the winning run when Michael Young singled to left field, giving the Phillies their third victory in four games after a 4-21 stretch that contributed to Charlie Manuel losing his job Friday.
Ruiz hopes to keep his job with the Phillies beyond this year. He is a free agent after the season.
"I'll keep working and hopefully finish strong," Ruiz said. "We'll see what happens when the season is over."
Ruiz opened the season serving a 25-game suspension for using a banned stimulant. Then he missed a month because of a strained right hamstring. He was hitting .253 with four doubles, nine RBIs and a .581 on-base-plus-slugging percentage through 46 games.
But he is hitting .310 with four doubles, three home runs, seven RBIs and an .889 OPS in his last 19 games.
The Phillies have nobody in the organization ready to take Ruiz's place as an everyday catcher. Top catching prospect Tommy Joseph, rated the Phillies' top catching prospect by MLB.com, had a lost year because of recurring problems from a concussion. The Phillies view Erik Kratz, who sparked Wednesday night's ninth-inning rally with a leadoff double, as a solid backup. They also view Triple-A catcher Cameron Rupp as a backup at this point.
So without any internal options, the Phillies could look to bring back Ruiz, although that is not a certainty.
"If I said no, I'd be lying to you," Ruiz said when asked if his future in Philadelphia had been on his mind. "It's something I was thinking, maybe not every day, but once in a while. But who knows; it's not in my hands. All that's in my hands is to play hard and see what happens.
"Definitely with everything that happened, it was tough for me. I came back from the suspension, then I got hurt. It's not an excuse, but it was hard to pick it up. There's nothing I can do about that; it's in the past, so I'm going to do my best right now, and hopefully I'll do well."
Phillies interim manager Ryne Sandberg said he saw a more relaxed player at the plate.
"He's finally just getting his stroke," Sandberg said. "He's using the whole field. He's found a little bit of a hot streak. He had a four-hit game a few days ago. It's a confidence-builder there. He's had a nice homestand."
Re-signing a catcher at Ruiz's age -- he turns 35 in January -- is a risk because of his durability. Ruiz has spent time in each of the past five seasons on the disabled list.
Sandberg said he thought Ruiz could still be productive.
"I do," he said. "I think these games, he has a chance to be evaluated and have the decision made. From what I see, he's a leader on the team."
Chase Utley hit a home run in the first inning to hand the Phillies a 1-0 lead. Phillies left-hander Cliff Lee allowed nine hits and two runs with six strikeouts in seven innings. He entered the game with a 5.06 ERA in his previous five starts.
It was the first time he allowed two or fewer runs in a start since June 24 in San Diego.
The Phillies tied the game in the fifth, and Justin De Fratus allowed a run to score in the eighth to give the Rockies the lead. But Kratz, Ruiz and Young took care of business in the ninth.
The Phillies have two walk-off victories in their last four games. It is far too late to get excited about that, but it certainly beats the alternative.
"I feel like there was a lot of life in the clubhouse," Ruiz said. "Everyone I've seen is trying to play hard and do our best. We did that when Charlie was here, too, but so far we've played good baseball [under Sandberg], and hopefully we'll continue to do that."
And who knows? If Ruiz finishes the season strong he might get a chance to help the Phillies redeem themselves in 2014.
Todd Zolecki is a reporter for MLB.com. This story was not subject to the approval of Major League Baseball or its clubs.