Reds hang on after offense's early eruption
Reds hang on after offense's early eruption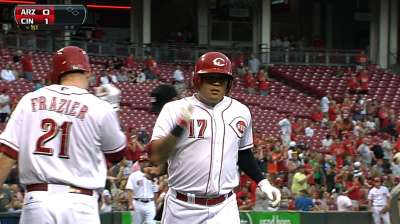 CINCINNATI -- Somehow a perfectly smooth rout turned into a gray-hair-inducing, antacid-chomping experience for the Reds on Wednesday night.
Sure, the Reds came out on top with a 10-7 victory over the D-backs for their eighth win in the past 11 games, but a simple box score says little about the journey it took to get there. Cincinnati had an 8-0 lead through four innings only to hang on and escape.
"Crazy," said third baseman Todd Frazier, who had a clutch RBI single in the eighth inning for insurance. "I get up there and I'm talking to [Wil] Nieves, the catcher. I'm like, 'what a game.' We're laughing at each other. It's humbling. It's weird. It's confusing at times. All in all, you try to win no matter what. You get the 'W' and you're happy at the end."
What made it crazy? Besides the nearly blown lead, the Reds needed Aroldis Chapman to notch his first-ever two-inning save when he took over in the top of the eighth for an injured Jonathan Broxton. Chapman also had to hit for the first time in his career because manager Dusty Baker did not properly double-switch when replacing Broxton. Every Reds starter had a hit among their 15 total. That included Shin-Soo Choo's near-cycle four-hit night and Frazier's hit in the eighth, which came on one of the ugliest swings ever seen.
Choo started the Reds' first inning by lifting a 1-0 pitch from Brandon McCarthy for a fly ball that carried just over the left-field fence. It was Choo's sixth leadoff homer of the season and 11th for his career. Using four-straight two-out hits in the second inning, including Mike Leake's RBI ground-rule double and Choo's two-run single, the Reds upped their lead to 4-0.
Three straight one-out hits in the third inning, including Devin Mesoraco's two-run single, made it a 7-0. Choo doubled and scored on Joey Votto's RBI single in the fourth inning for an eighth run.
Leake retired his first 10 batters until Martin Prado hit a one-out single in the fourth. Arizona made the game interesting with a four-run fifth inning against Leake. Following a pair of one-out singles, pinch-hitter Jason Kubel hit a two-out, two-run single to right field. On the very next pitch, Adam Eaton hit a two-run homer. Leake was finished after six innings with four runs and six hits, no walks and three strikeouts.
"It was a tough one," Leake said. "Being up 8-0 and then ending up being a stressful game, it stinks. But at least we came out ahead."
Arizona added another run in the seventh against Manny Parra and J.J. Hoover, and the ball was given to Broxton for the eighth. Gerardo Parra led off with a drive to left field. Originally ruled a double off of the wall, the play was reviewed on video replay by umpires and ruled a homer.
Things only got hairier for the Reds in the inning. Broxton walked the next batter, Nieves, on four pitches and exited the game with an elbow injury after being looked over by the trainer, pitching coach Bryan Price and Baker. Broxton, who had been unavailable the previous two nights, is likely headed back to the disabled list.
"I didn't feel it until I faced the righty," Broxton said. "I didn't feel it, nothing. The old injury, I didn't feel out there warming up. That first pitch to the righty, I knew something was messed up, but I just tried to get through it. But the best thing was to come out. I know it puts a lot of stress on the bullpen and Chappy."
It also shook up Baker and Price. They summoned for Chapman from the bullpen, but with the pitcher's spot due to bat third in the bottom of the eighth, they did not ask first for a double-switch. Baker then tried to get Ryan Ludwick to play left field but was told by the umpire that it was too late.
"The umpire asked me and Bryan, who did we want? We said we wanted Chapman," Baker explained. "Me and Bryan pointed out to Chapman and we couldn't double-switch after that. I've never been in that circumstance where you have the injured player, and I was sort of distraught by the fact that I had to go get Chapman and the fact that we were going to lose Broxton."
Chapman issued a one-out walk but almost escaped clean on a Matt Davidson grounder to shortstop. Didi Gregorius' slide into Brandon Phillips at second base broke up the double play and forced an errant throw that allowed Nieves to score and make it 8-7.
"Baseball is amazing," Choo said. "I was shaking my head in the field a couple times. They came back with like four runs, a couple runs again, I said, 'No way, no way.' It was an 8-0 game, so I thought, 'Easy game today.' But as soon as they scored, I was like, '[golly].' And then it was 8-7, the D-backs had a charge, so we were on the defensive side."
With a runner on first base, Chapman struck out batting against Brad Ziegler after getting to a full count and got a nice ovation from 23,297 fans at Great American Ball Park. Choo followed with his fourth hit -- a single -- to finish a triple shy of the cycle. Next came Frazier, who was handcuffed by a nasty sidearmed slider from Ziegler and managed to line an RBI single into center field.
Frazier was laughing in disbelief from first base.
"I don't know what I was doing," Frazier said. "It was just confusing. I knew he had a nasty slider. It started like 2 feet behind me. I'm like 'it's going to come back in.' I kind of jumped out of the way. I don't know why my body just does its own thing. I said 'I had to go down with a fight,' just put the barrel on it. Away it went. It was just one of those silly swings. It felt pretty good afterwards."
In a 35-pitch night, one shy of his career-high, Chapman got through a scoreless ninth despite having the potential tying run at the plate. In the end, Cincinnati picked up a game in the National League Central standings and moved to 2 1/2 games behind the first-place Pirates. Arizona dropped to six games behind the Reds for the second NL Wild Card spot.
"That's the epitome of a full moon, it felt like," Baker said. "We were riding easy, 8-0. All of a sudden, it was 8-4. They didn't quit. I don't know if that's what you call a good game or not. A lot of stuff happened."
Mark Sheldon is a reporter for MLB.com. Read his blog, Mark My Word, and follow him on Twitter @m_sheldon. This story was not subject to the approval of Major League Baseball or its clubs.