Davey plans to take a look at some young players
Davey plans to take a look at some young players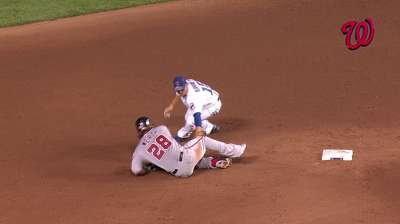 CHICAGO -- Nationals manager Davey Johnson said Wednesday that he plans on getting a look at some younger players over the final few weeks of the regular season.
Coming into Wednesday's game against the Cubs, the Nationals were 9 1/2 games behind the Reds for the second National League Wild Card spot.
"We're not in the position I'd like to be in, but there is a necessity to look at some guys," Johnson said. "We'll be doing that. I mentioned the other day that Tyler Moore had to get some at-bats, some pretty regular at-bats."
Johnson declined to be more specific as far as what other players he might play down the stretch.
"I'll do that with some other guys," he said. "I'm not going to go into names because that's going to happen on a daily basis. It's not going to be a set plan."
Johnson was asked about whether Danny Espinosa may be called up when rosters expand in September, and he expressed concern that the middle infielder hasn't played up to his potential with Triple-A Syracuse this season.
As of Wednesday, Espinosa was hitting .202 with two home runs and 15 RBIs in 64 Triple-A games. Prior to being placed on the disabled list on June 4, he began the season with the Nationals but had a .158/.193/.272 slash line.
"There have been discussions of [calling him up], and right now we're trying to get him back on track," Johnson said. "It's also a reward system when you get called back up. It's a reward on how you did down there. He's not doing the things I know he's capable of doing. But there's still a little time left, and we'll just have to wait and see."
Johnson also said that he'll be doing some more platooning at certain positions.
"Going forward I am going to be kind of doing a little bit of platooning, which I don't feel I needed to do early," Johnson said. "But guys haven't performed at the level they were supposed to be performing at, so I will give some other guys an opportunity in a kind of semi-platoon role.
"At this point in the year, your performance dictates really how you're used going forward."
Manny Randhawa is an associate reporter for MLB.com. This story was not subject to the approval of Major League Baseball or its clubs.