Rizzo moves to two-hole, while Castro leads off
Rizzo moves to two-hole, while Castro leads off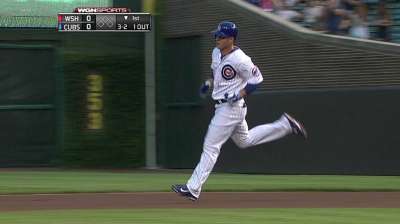 CHICAGO -- Another day, another Cubs lineup experiment.
A day after shortstop Starlin Castro was in the No. 8 spot for the first time this season, first baseman Anthony Rizzo was moved to No. 2 on Wednesday, while Castro batted leadoff. It's the only place in the lineup Rizzo has never hit. Rizzo responded by belting a solo homer in his first at-bat against the Nationals.
"Just kind of putting him somewhere that he doesn't even have to think about being 'the guy' or whatever," manager Dale Sveum said. "You can put him in the two-hole and make sure he gets up in the first inning ... taking a little pressure off him as far as feeling like he's got to be the guy in the third-hole or fourth-hole or fifth-hole."
Rizzo has been abysmal hitting with runners in scoring position. For his career, he's a .214 hitter in such situations entering Wednesday, but after going 0-for-3 with men in scoring position on Tuesday, his average this year dropped to .173. He's hit just .141 overall this month.
Castro's struggles have been across the board. Entering Wednesday, he's a career .285 hitter who's batted just .240 this year in his least productive season since he debuted in 2010. In each of his previous three seasons, Castro hit at least .283.
"It's good for me," Castro said about the lineup switch, adding it gives him a confidence boost and he expects to be more aggressive. "I feel good batting first. I like batting first. When I had my year with 200 hits, that's what I hit."
Sveum has given him a chance to sort things out in every spot in the lineup but cleanup and ninth, though second (79 games) has been his most regular landing spot.
"[We're] trying to get through these next five weeks getting him and Rizzo feeling good going into the winter, and I think of all places … I think this is one spot that he's flourished in, that he kind of can use to so called get his swagger back and see if that can get things going, too," Sveum said.
Castro and Rizzo were on the field taking early batting practice on Wednesday, hitting fastballs from a machine fed by hitting coach James Rowson. Rizzo also took a few steps ahead of home plate toward the mound, he said, to focus more on reacting quicker to pitches.
"The machine's hard to hit off, so you really have to focus on seeing the ball," Rizzo said. "If you hit it well, you know your swing's right and if you're missing a lot, it's probably off a little bit."
Rizzo added: "I told Castro if he gets on first, I'm going to bunt him over. So we'll see if I hold true to that."
Joey Nowak is a reporter for MLB.com. Follow him on Twitter at @joeynowak. This story was not subject to the approval of Major League Baseball or its clubs.