Mujica checked by trainers, stays in game
Mujica checked by trainers, stays in game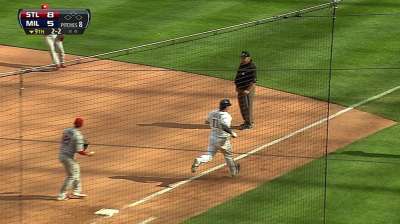 MILWAUKEE -- In the bottom of the ninth inning of Wednesday's 8-6 win over the Brewers, Cardinals manager Mike Matheny and members of the training staff did something that made St. Louis fans hold their breath -- they ran out to check on closer Edward Mujica.
Mujica, who sat out the Cardinals' entire weekend series in Chicago with arm fatigue, said after the game that he has been battling an issue behind his right shoulder under his trapezius.
Matheny said his closer just did not look right.
"Yeah, he looked like he just didn't feel right, so you see that you've got to go find out," Matheny said. "We're just going to continue to keep our eyes on it and we'll give him days when we can. We've given him a few. Let the doctors -- the medical team -- get their hands on him again, just keep working on him and see what we have to deal with."
The right-hander went on to record the final two outs for his 33rd save, and he looked good doing so, other than on a Logan Schafer home run three pitches after the mound visit.
"It's under my trap and my back," said Mujica, who sported a large bag of ice on his right shoulder. "Right now it might be a little stiff with the ice and everything, but, you know, I'm not concerned about it."
Mujica has recorded 33 of the Cardinals' 35 saves this season. He sounded confident he would be in every closing situation for the rest of the year.
"If the trainer starts treating me better, I can go almost two more months," Mujica said with a laugh. "We'll see how I'm going to feel tomorrow."
Kevin Massoth is an associate reporter for MLB.com. This story was not subject to the approval of Major League Baseball or its clubs.