Rosario flirting with first amid strong hitting
Rosario flirting with first amid strong hitting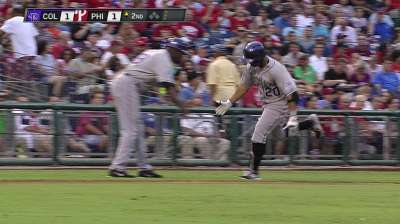 PHILADELPHIA -- When Wilin Rosario walked into the Rockies' clubhouse, a quick glance around led him to notice something different about the lineup Wednesday night against the Phillies. Rosario was indeed in the lineup, riding an 11-game hitting streak in which he had three home runs and 14 RBIs; no change there. The difference on this night was in position, as Rosario started the night at first base.
"I think down the road [we] might do something similar to what the Giants are doing with Buster Posey," Rockies manager Walt Weiss said. "Use him at first base to keep that bat in the lineup. It's a nice option to have.
"We're still moving forward with him as a catcher. I think it's just a nice option to have."
The 24-year old has also shown a propensity to hit better late in the season in just two years of service with the Rockies. His callup in 2011 aside, Rosario has been most productive after the All-Star break, including a robust .322 average in August entering Wednesday's game against the Phillies, where he homered in his first at-bat to extend his hitting streak to 12 games. A season ago, he hit .304 in August with seven home runs and .311 in September with five home runs.
"I'm just trying to see the ball well and hit it," said Rosario, who remains an aggressive swinger who has yet to walk this month. "I just play hard and go after the ball. I always have my routine and will stick to it all year. Whether I'm going bad or good, I stick to my routine."
It is a routine that will not be upset by playing first base on occasion, as Rosario continues to work on his fielding both behind the plate and at first on a daily basis.
"He likes taking ground balls over there," Weiss said. "I told him yesterday that there was a chance he would play first base tonight. We've talked about it in the past, and it's an opportunity like I said to keep that bat in the lineup."
Michael Radano is a contributor to MLB.com. This story was not subject to the approval of Major League Baseball or its clubs.