Rizzo's two jacks not enough as Hairston burns Cubs
Rizzo's two jacks not enough as Hairston burns Cubs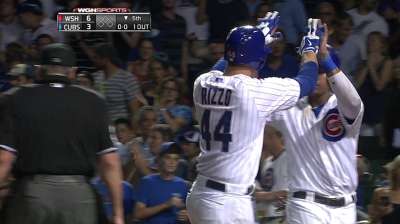 CHICAGO -- Scott Hairston's first home run since he was traded from the Cubs to the Nationals came at a great expense for his former team.
The veteran outfielder, dealt on July 8, hit a go-ahead three-run home run on Wednesday night off reliever James Russell in the seventh inning of an 11-6 Cubs loss at Wrigley Field.
In his 20th game with the Nats, it was Hairston's ninth homer of the year and 11th pinch-hit homer of his career. After the Cubs intentionally walked Jayson Werth, Hairston stepped in and smoked a 1-2 changeup deep into the left-field seats, and the Nats put to bed any chance of the Cubs pulling off their largest come-from-behind win of the season (the previous high was four runs, against the Reds on May 26).
"I'm not going to let Werth beat you in that situation," Cubs manager Dale Sveum said. "We weren't in the position to match up there with guys down, but the guy hasn't had an RBI since he was over there. We got him to two strikes and, once again, just couldn't put him away."
Five of Hairston's nine homers this season (two against the Padres, two against the D-backs and one against the Cubs) have been against former teams.
"It's stuff that you dream about as a kid, especially when the batter in front of you gets [intentionally] walked," Hairston said. "There's a little pride as a hitter. You want to stick it to that team, so to speak, when they walk the guy ahead of you. I kind of take that personal, and I just wanted to make sure I did my job and it worked out."
Chicago was in an early 6-1 hole as the Nationals did right-hander Jake Arrieta no favors in his third start as a Cub. When he was off the plate, the visitors let it pass, patiently drawing four walks. When he was around it, they made him pay, particularly with Werth's third-inning homer that accounted for the final three earned runs of Arrieta's abbreviated outing.
"You give guys free passes, you get guys to the plate like Werth, you put them in a hitter-friendly count, they can do some damage," Arrieta said.
But Chicago's offense, limited to two runs or fewer in five of eight games already on this homestand, came alive Wednesday. Anthony Rizzo accounted for the early barrage, flashing power in his career debut from the No. 2 spot. The young slugger, whom Sveum shuffled in the lineup to jump-start Rizzo's production during this woeful month, belted two homers to right field for his fourth career multihomer game.
The 24-year-old Rizzo is now the second-youngest Cubs left-handed batter in the modern era (since 1901) to reach the 20-homer plateau in a season. Hall of Famer Billy Williams hit 25 in 1961, at the age of 23.
"It's going to be a great year no matter where I end up, in my opinion, from a learning standpoint," Rizzo said. "To grow up and from a maturity standpoint, it's going to be a great year, no matter what."
Those were two of the six hits Nationals starter Ross Ohlendorf allowed on the night -- Rizzo's first homer, a solo shot, came in the first -- before the pitcher was pulled in the fifth.
Arrieta, who came to Chicago in the July 2 trade that sent starter Scott Feldman to the Orioles, had been fantastic in his first two starts with the Cubs (one earned run in 13 innings) after posting a 7.23 ERA in five starts with Baltimore. But he's now walked four or more hitters in half of his eight starts this season, and yielded a season-high six runs Wednesday.
"I didn't do my job tonight," Arrieta said. "I had enough weapons tonight to pitch deep into the game and get our team a win and I wasn't able to do that."
The rest of the Chicago comeback came in that five-run fifth inning, which featured Rizzo's second homer -- a two-run shot onto Sheffield Avenue -- and 10 batters coming to the plate. Nats reliever Tanner Roark came in and surrendered four straight singles as Donnie Murphy, Cole Gillespie and Welington Castillo also drove in runs to tie the game.
Denard Span had an RBI triple and Ryan Zimmerman drove him in with a single in the eighth, pushing Washington's lead to 11-6. It was the most runs the Nationals have scored since July 28 against the Mets.
"We outhit them, but obviously, two three-run homers, you aren't going to win many games with two three-run homers in one game," Sveum said.
Joey Nowak is a reporter for MLB.com. Follow him on Twitter at @joeynowak. This story was not subject to the approval of Major League Baseball or its clubs.