Hairston's pinch-hit poke propels Nats to victory
Hairston's pinch-hit poke propels Nats to victory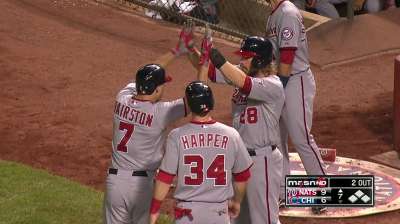 CHICAGO -- Scott Hairston came through in a pinch for the Nationals on Wednesday night.
Washington blew a five-run fifth-inning lead, but Hairston's pinch-hit three-run homer with two outs in the seventh propelled the Nationals to an 11-6 victory over the Cubs at Wrigley Field.
With the game tied at 6 in the seventh, Bryce Harper doubled with two outs and the Cubs elected to walk Jayson Werth to get to the pitcher's spot. That's when Nationals manager Davey Johnson called Hairston's name.
"He's a smart and veteran-type player," Johnson said. "He's gotten a lot of big hits in the past. And that's his role."
Prior to the home run, Hairston had been struggling in that role, batting .182 (6-for-33) as a pinch-hitter this season. But he drilled a 1-2 changeup from reliever James Russell to the back of the bleachers in left to put the Nationals back on top.
Hairston said when the opposing team walks the hitter ahead of him, he takes it personally.
"You want to stick it to [the opposing] team, so to speak, when they walk the guy ahead of you," he said. "I kind of take that personal, and I just wanted to make sure I did my job and it worked out."
"I'm not going to let Werth beat you in that situation," Cubs manager Dale Sveum said. "We weren't in the position to match up there with guys down, but [Hairston] hasn't had an RBI since he was over there. We got him to two strikes and, once again, just couldn't put him away."
Hairston's blast -- his second pinch-hit homer of the season and 11th in his career -- came against the team that traded him to the Nationals on July 8.
"I know that he wants to show these guys what they're missing, and he did a heck of a job," Johnson added.
Nationals starter Ross Ohlendorf -- who made his first start since being placed on the disabled list with inflammation in his throwing shoulder on Aug. 4 -- gave up four runs on six hits over 4 1/3 innings. He left with a lead in the fifth, but the bullpen couldn't hold it.
The Cubs batted around in that inning, which included Anthony Rizzo's second homer of the game, a two-run shot off Ohlendorf that made it 6-3. The next batter, Junior Lake, singled to chase Ohlendorf from the contest.
Ohlendorf said that while he wished he could've pitched deeper into the game, he was happy with how his shoulder felt.
"I was just glad to get back out there," the right-hander said. "I felt good. I wish I'd pitched deeper in the game for us, but our offense did an awesome job. ... I was really happy with my fastball tonight."
Reliever Tanner Roark came into the game with one out in the fifth and gave up four straight singles and a sacrifice fly that tied the game at 6.
The rookie, who came into the game not having allowed an earned run in his first 10 big league innings, said his adrenaline was a little high with family and friends from his hometown of Wilmington, Ill., in attendance.
"You don't want the game to speed up on you," he said. "That's what I let happen tonight. The adrenaline was flowing and the ball was up. You can't get balls up, [otherwise] my two-seamer is going to be flat and it's not going to sink and everybody's going to hit it like they did."
Washington scored three runs in both the second and third innings against Cubs starter Jake Arrieta to open up a big early lead.
Kurt Suzuki hit a two-run single in the second that was followed by an RBI on an Ohlendorf squeeze bunt. In the third, Werth smashed a three-run homer to left-center to make it 6-1.
Following the Hairston homer in the seventh, the Nationals tacked on two more runs in the eighth on an RBI triple by Denard Span and an RBI single by Ryan Zimmerman to make it 11-6.
Roark settled down after the fifth, striking out the side in the sixth inning. Craig Stammen, Tyler Clippard and Rafael Soriano combined for three scoreless innings to close out the game.
Despite blowing the early lead, Johnson said he's glad to see the offense come around after his club managed six runs in the previous three games combined.
"Eleven runs, you'd think it's Christmas," he said. "It was a weird ballgame. All kinds of strange things happened. ... [But] the offense came around."
With the Nationals' win keeping them 9 1/2 games behind the Reds for the second National League Wild Card spot with 36 games left, Hairston said it's that type of offense that Washington will need to make a late postseason push.
"We need things firing on all cylinders," he said. "I think we have the talent, [both] pitching and hitting, and once we all put that together, we're a dangerous team."
Manny Randhawa is an associate reporter for MLB.com. This story was not subject to the approval of Major League Baseball or its clubs.