Injury puts focus on Mauer's future as catcher
Injury puts focus on Mauer's future as catcher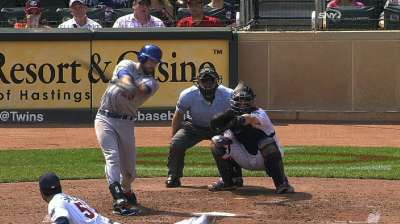 DETROIT -- Joe Mauer is unquestionably the Twins' best player and the St. Paul native is the face of the franchise.
So when he was placed on the 7-day disabled list with concussion-like symptoms after Tuesday's game against the Tigers, it raised the question about whether Mauer should continue to be subjected to the daily rigors that come with being a big league catcher.
Eight catchers have been placed on the concussion list this year, including both Ryan Doumit and Mauer. And the Twins are no strangers to the long-lasting effects concussions can have on players, considering what Justin Morneau went through with his season-ending concussion in 2010 that lingered well into the 2011 season.
"I think it's concerning for the entire industry that it's increasingly a hazard at that position," Twins assistant general manager Rob Antony said. "Our best player is a catcher and fortunately he hasn't had issues in the past. You hope this is an isolated thing and not a trend."
Considering it is Mauer's first concussion and signs point to it being minor -- he spent Wednesday at the team hotel and told trainers he's feeling better -- the Twins will continue to keep Mauer behind the plate. But Antony said there could be a day when Mauer is shifted to another position or sees his workload behind the plate decreased dramatically.
"I don't want to overreact to this thing because it's only happened in the last day, but Joe's preference has always been to catch," Antony said. "When you have what we consider to be the best catcher in the game, it's hard to want to move a guy around, but you let a lot of things dictate that. I'm sure at some point in his career you'll want him in the lineup every day and have that bat in the lineup.
"Ironically, this has been one of his best years defensively. He's healthy and throwing way better this year. It's a shame this interrupts that. That's something I'm sure we'll talk about it. And if Joe wants to talk about it, we'll talk about it, but right now it's not something we're thinking about."
Twins manager Ron Gardenhire has also noticed the disturbing trend among catchers with concussions, but said he believes Mauer will fight to remain behind the plate, as it's long been his preference.
But Mauer has seen more action at first base and designated hitter over the last two years, and the Twins will carefully monitor the situation moving forward.
"There's not much you can do about it -- he is one and he's going to be one for a long time," Gardenhire said. "I think we're all starting to see it out in the open now, because we're able to test for this. We're seeing more and more catchers step up. This is pretty serious stuff with what you've seen with all the catchers going down with this."
Rhett Bollinger is a reporter for MLB.com. Read his blog, Bollinger Beat, and follow him on Twitter @RhettBollinger. This story was not subject to the approval of Major League Baseball or its clubs.