Broxton sustains new injury after exiting in eighth
Broxton sustains new injury after exiting in eighth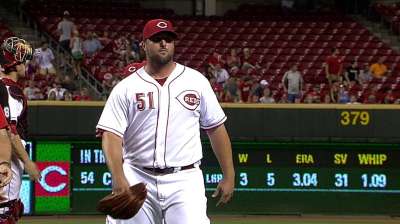 CINCINNATI -- Reds reliever Jonathan Broxton was unavailable the past two games because of an issue similar to the right elbow strain that kept him on the disabled list for two months. Nine pitches, a walk and a home run after entering in the top of the eighth in Wednesday's 10-7 win over the D-backs, he exited with a new injury in the same arm and is almost certainly headed back to the DL.
"It's in the muscle, flexor mass muscle, and not in the bone like it was before," Broxton said. "I'll get it looked at tomorrow. I didn't feel it until I faced the righty."
Broxton, who said he felt fine throughout warmups, opened the eighth by allowing a solo home run to Gerardo Parra. After the first pitch to Wil Nieves, Broxton said he knew something was wrong when it felt like a knife went through the belly of his forearm, but he tried to battle through the pain. He then walked Nieves on three more pitches before coming out of the game.
"Just that one pitch, it felt like it pulled apart," Broxton said. "Next pitch -- the cutter -- it hurt even worse. After that, I was just trying to get through it, try not to embarrass yourself or get somebody hurt. At that point, all your thinking about is trying to get out of it with no pain. You can't pitch up there like that."
Closer Aroldis Chapman replaced Broxton and picked up the two-inning save. Although he had to look out for his own health, Broxton appeared most disappointed after the game that he put more pressure on Chapman and the rest of the bullpen. Manager Dusty Baker, however, was more concerned about the 29-year-old right-hander, who just returned to the Reds on Aug. 7.
"That was really disheartening to have to go and get Broxton," Baker said. "I went out there. [Pitching coach] Bryan Price said, 'Aw man, he's done.'"
Baker and the Reds will know more after Broxton sees a doctor on Friday, but the Cincinnati skipper was not optimistic following Wednesday night's game.
"He told me it's not something that's going to be OK in a couple of days," Baker said. "Plus, we can't afford to be short in the bullpen. I don't know what we're going to do tomorrow."
Mark Sheldon is a reporter for MLB.com. Read his blog, Mark My Word, and follow him on Twitter @m_sheldon. Jeremy Warnemuende is an associate reporter for MLB.com. This story was not subject to the approval of Major League Baseball or its clubs.