Success brings out Dodgers opponents' best
Success brings out Dodgers opponents' best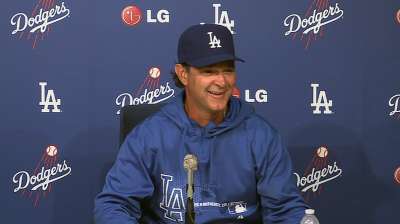 MIAMI -- Some of the Marlins haven't hidden their anticipation of getting a chance to knock off the Dodgers. Manager Don Mattingly said if opponents are raising their game when they play the Dodgers, it's only the price of success.
"It's natural," Mattingly said. "I played on bad teams in New York. When the A's came to town, it was like, 'Yeah, we've got a chance to play a team in the race.' We've got guys with names, guys they've seen before. We have to be ready for that."
Miami has the worst record in the league, but the Marlins have been a .500 team over the last two months.
"We're getting national attention for what we've been doing, so when we come to town, it's the Dodgers," said Mattingly. "That's a compliment to us, but a challenge we have to live up to. And I haven't felt our guys have been flat. I don't feel I have to remind them. Any win we put up on the board is one we don't have to get later."
Ken Gurnick is a reporter for MLB.com. This story was not subject to the approval of Major League Baseball or its clubs.