Stassi has an ideal mentor in Castro
Stassi has an ideal mentor in Castro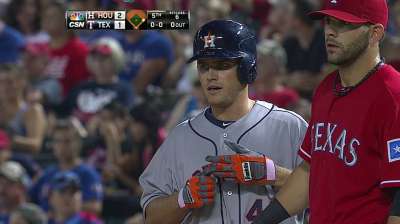 ARLINGTON -- Max Stassi said he's been quiet in the Astros clubhouse, but he's kept his ears open especially when Jason Castro speaks. Stassi has the rare opportunity to start his career backing up an All-Star catcher who was in his shoes three seasons ago.
"I'm very fortunate to be in this situation behind him and just to be able to see how he goes about his business," Stassi said. "He's a professional in everything he does. He's an awesome guy. I'm fortunate to pick his brain -- a very intelligent catcher and probably one of the smarter catchers in the game."
While this isn't the first time Stassi has interacted with Castro, he has absorbed the way Castro prepares for games at the Major League level for the first time. Stassi, who was traded from the A's in the offseason, met Castro during Spring Training, but the rookie had hernia surgery and was sent to Double-A Corpus Christi once he recovered.
Castro earned his first All-Star nod this year in his second full season, but the 26-year-old who made his big league debut in 2010 understands Stassi's situation very well.
"It's a weird feeling to see that it's been that long, but it really hasn't been that long since I've been in that situation," Castro said. "I feel like I've been through a lot through that time, and I feel like I've learned a lot. I'm glad that I'm in a position to help out and help make this transition as smooth as possible for a young catcher coming up."
Castro hopes to help Stassi understand what it takes to prepare for a game, which Castro feels is the biggest difference from the Minor Leagues, with scouting reports and video. Stassi has been the designated hitter in his first two games, but Astros manager Bo Porter said he will be behind the plate for one of their games against the Blue Jays this weekend. Porter felt Stassi's significance to the future of the organization played a big factor in his callup and the experience will serve him well.
"I think this here is a great learning experience that will not only help him the rest of this year, but it will also help him as move forward into next year," Porter said.
Master Tesfatsion is an associate reporter for MLB.com. This story was not subject to the approval of Major League Baseball or its clubs.