Astros know mistakes are part of learning curve
Astros know mistakes are part of learning curve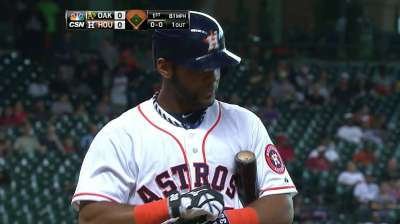 ARLINGTON -- The Astros have 14 rookies on their active roster, so mistakes are bound to happen. Take for example Tuesday's big league debut of catcher Max Stassi, who went 2-for-3 but committing a baserunning blunder after his first hit. It's all part of the learning process the youngest club in the Majors has had to go through this season.
"It's cool because there's so many young guys and we can all go through the same thing at the same time," Kevin Chapman said. "We can all share that with each other. Stuff like last night when [Stassi] got caught off the base. It stunk because it was a really close game, but it's funny that it happened on his first time on base. I gave him a hard time about that, but it's all part of the learning curve."
Astros manager Bo Porter said the fact that the organization is building up its younger players, mistakes are expected, and mistakes like Stassi's won't keep players from establishing themselves in the big leagues.
"A lot of these guys are smart, they realize that this year is a great opportunity for a young guy to come into the Majors in an organization where the opportunity is going to be given you," Porter said. "You're going to have some time to fail, and you're going to continue to get opportunities."
The average age on the Astros roster is 25.4, over a full year younger than the second-youngest team in baseball, the Braves, which makes it easier for rookies to fit in and feel comfortable.
"It makes it a lot easier that everyone is new to this club too," Stassi said. "I can bounce questions off them that I probably wouldn't be comfortable asking a 10 to 15 year veteran. It's been a good time here so far."
Master Tesfatsion is an associate reporter for MLB.com. This story was not subject to the approval of Major League Baseball or its clubs.